In Arrest (A Disarm Novel) by June Gray, Elsie and Henry are newly married, trying to live their dream. It's been a battle worth fighting to get to where they are today, having found their way back together. Elsie is doing very well in her job, she's happy. After serving in the military, Henry is now a police officer working the beat. Elsie struggles not to worry about Henry, and Henry struggles not to burden Elsie with the dark side of human nature that he sees. He is protective of not only Elsie, but of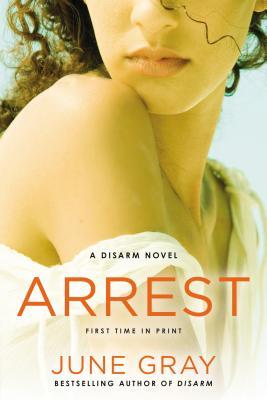 everyone.
Henry and Elsie have a difficult relationship. There are so many things they still don't know about each other, even though it's like they've known each other forever. Elsie wants to talk about things that Henry doesn't, but sometimes she closes off and only sees how things affect her. Neither of them are perfect, but the love they have for each other is obvious and they want to be together. When the stresses of life and Henry's job start creeping in and Elsie sees shadows of how Henry was after his military time, she's worried. She's scared too, for him and for them. An increasing lack of communication and assumptions puts further strain on their relationship. Can their relationship withstand yet another blow? Or in the end will it be too much and they will lose each other once and for all?
June gives us two very dynamic characters in Arrest. Henry and Elsie both bring a lot of issues and baggage into their marriage, some things that they haven't necessarily worked through or talked about. There is so much going on for both of them, and June did a great job of pulling me into their world. Henry and Elsie have a lot of angst and conflict in their relationship, it is definitely not all roses and for much of Arrest I got the sense of unhappiness and uncertainty. Henry and Elsie do work well together though when things are going well, and the chemistry between them, the sex, is mind blowing… June writes this well into the plot and it's completely appropriate because it is very much a part of Henry and Elsie. I saw huge growth of both Henry and Elsie in Arrest. It is a gradual process and I liked how they evolved and grew through out Arrest. I felt like they were realistic people going through things that people actually go through. Not everyone gets an easy happily ever after, sometimes you have to fight for it and that's what Henry and Elsie are doing. Neither of them wants to give up when sometimes it would be so much easier to.
Arrest is mainly told from Elsie's point of view which works well to keep things clear and easy to follow. We do hear a bit from Henry's POV at the end of Arrest, and I liked this and how June kept them so separate, so I really was reading two different views. There are a few secondary characters that stick out, Elsie's friend and also her boss and it would be fun to read about them sometime.
June Gray's writing has a smooth, easy flow to it and despite the rawness of some of the issues and emotions, she captures them well, making it easy to feel what Elsie or Henry might be feeling. I'd recommend this to romance readers who enjoy determined, loyal characters who will fight for what they want.
FYI: Arrest is a sequel to DISARM, Although both books can be read as a stand alone read, we recommend reading both books. 
Book Info:

Published June 3rd 2014 by Berkley Trade | (A Disarm Novel)
Life begins at happily ever after…
For Elsie and Henry, getting married and buying a house is only the beginning of their passionate new adventure. Elsie is flourishing in her job while Henry embarks on a new career as a police officer. Everything, it seems, has finally fallen into place.
Just when it's all smooth sailing, they face life-altering changes that make Elsie question her ability to adapt. With Henry's job putting him in constant danger, she watches helplessly while he slips back into his old habits. Elsie must find a way—through any means necessary—to prevent the past from repeating.
With the sand constantly shifting underfoot, Elsie and Henry have to figure out how to strengthen their bond—before they end up losing what matters most…