As Hot As It Gets (Out of Uniform #10) by Elle Kennedy is a really hot read. The sizzling couple in this book is gardener Mia Weldrick, and Navy SEAL Jackson Ramsey. Once Jackson is able to personally show Mia that sex is mind-blowing, not boring, they begin to have it as much as much possible. Mia views their relationship as a fling, while Jackson believes it to be much more.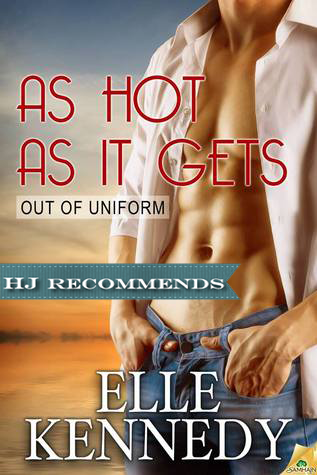 Twenty-six year old Mia is working two jobs in order to support herself and her sixteen year old brother Danny. Mia became Danny's permanent guardian when Brenda, their mother, abandoned him on Mia's doorstep about two years ago. Getting married and divorced is Brenda's primary goal in life, as she most recently divorced her tenth husband. She likes to stir up trouble and cause tremendous heartache in both her children's lives. Due to Brenda's lifetime of emotional antics, Mia is afraid of a romantic commitment.
Jackson is a calm, southern gentleman whose wooing abilities are beyond reproach. He likes to be in command in the bedroom, where his alpha desires can be completely satisfied. His friends are all SEALS and their camaraderie is honorable as well as hysterical. Jackson rarely returns to Texas to visit his family because there is bad blood between him and his older brother Shane.
One of the funniest scenes occurs when Danny asks Jackson and his friends for advice about the mechanics of sex. Seth, one of Jackson's buddies, decides to step up when Jackson is dumbfounded and unable to speak. Jackson knows that giving Mia's brother sexual tips will ultimately put him in the doghouse. So Seth begins with "The vagina is a mysterious garden…." what a riot.
I must say, the cover it hot and the colors blend perfectly together. I am always excited to read a book by Elle Kennedy. Her writing is fun, realistic and sincere. In this story, the combination of amusement and seriousness is well thought out and perfectly balanced. I truly enjoy her writing style and her ability to create well designed, pragmatic characters that draws the reader in right from the beginning.
This is a fresh, military themed romance with a plot that is equally as good as the eroticism, don't pass it up.
Book Info:

Publication: February 11th 2014 by Samhain Publishing | (Out of Uniform #10)
ea, air, land, the bedroom…this SEAL is always in command.
An Out of Uniform Story
After watching his teammates settle down one by one, Navy SEAL Jackson Ramsey is ready to say goodbye to the single life. He's even met a woman who intrigues him, challenges him, and turns him right on—Mia Weldrick, the funny and beautiful gardener he can't wait to get to know better.
Except Mia isn't interested in dating him, which means it's time for Jackson to unleash his Texas charm and do some serious wooing.
With a teenage brother to raise, two jobs, and, frankly, a complete disinterest in sex, Mia has no room in her busy life for a six-foot-five SEAL with a naughty streak a mile wide. But one hot kiss from Jackson has her imagining all the dirty ways she could fit him in.
It isn't long before their no-string fling transforms into something more. As desire unearths emotions and deeply buried secrets, Mia has to decide whether to give love a chance to grow, or let it slip it away.
Warning: This Southern gentleman is wickedly ungentlemanly in the bedroom. He likes it rough and kinky, and he's not afraid to make his sexual demands known. Anal, spanking, voyeurism, and other surprises await you in this last and dirtiest Out of Uniform installment.