Sweet Southern Betrayal (The Boys Are Back in Town #3) by Robin Covington: William "Teague" Elliot IV has ambitious future plans including a change of address – the new address is 1600 Pennsylvania Avenue. He is a couple of weeks away from becoming a partner in the prestigious Harrison and Duff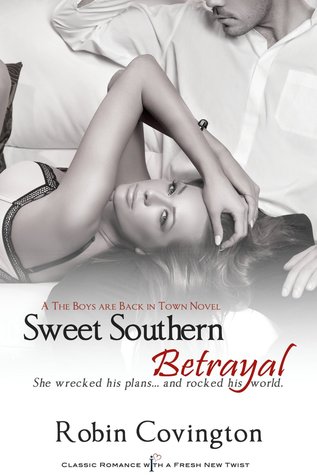 law firm; a pivotal phase in his future political career. With his future on target, he is ready to head to Vegas to celebrate the wedding of his little sister to his best friend. However, he may have jinxed himself with an off-handed comment to his boss, "I promise you I will not marry a stripper."
Larisa "Risa" Ellen Clay has had to overcome a lot in her life from being a homeless teenager to successful business owner. However, she gets in over her head when she borrows money she cannot pay back. With only two options (1) sleep with a sleazy mob boss or (2) ruin the life of a gorgeous, charming, and sexy stranger but Risa has always done what was necessary to survive.
The author created moments that are heartfelt and emotional using incredible dialogue.
"A man who'd treated her like a queen, who'd danced with her, laughed with her, and then marched right out of her favorite romance novels and made love to her all night long."
The most impressive part of this story was how the author handled the betrayal of the hero. Desperate to save her friend she is blackmailed in exchange for having her debts absolved. Therefore, she is not malicious, just desperate. As a reader, I am more accepting of a character's redemption if there is a clear motivation for the betrayal.
Book Info:

January 13th 2014 by Entangled: Indulgence
Privileged and ambitious attorney Teague Elliott is on the fast-track to getting everything he wants. All he has to do is stay on the straight and narrow and a high-profile political career is his for the taking. Until he wakes up naked with a Vegas showgirl…
Risa Clay has worked hard to put her showgirl past behind her and start fresh. But she owes ten grand to the wrong people, and to pay off her debt, she agrees to betray a stranger. . .but she ends up with a husband and guilty conscience.
Savvy and determined, she double-crosses the mob, goes on the run, and turns up on Teague's doorstep armed with a dangerous secret, a marriage license, and the power to ruin his well-planed future. She thought using Teague again would be easy, but the passion that exploded between them in Vegas didn't stay in Sin City and betrayal is the last thing on her mind.
Now Teague has to choose between the future he's planned for all his life, or the one with Risa that he can't turn away from.