In As You Wish (The Summerhouse #3) by Jude Deveraux, They say hindsight is 20/20 and no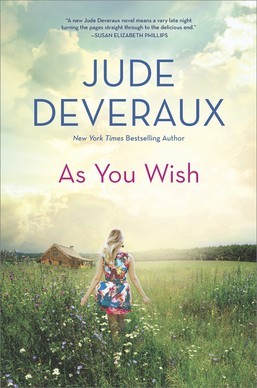 one probably knows that better than Olivia. In her early twenties in the summer of 1970, that was when everything began to unravel for her, losing the love of her life, Kit, and setting into motion a series of events that would lead to a long, loveless marriage and years of hard work. It takes almost forty years, but Olivia finally reunites with Kit and can't wait to spend their remaining years together. She can't help but wonder, though, how differently her life would have turned out if she and Kit would have stayed together all that time. Call it fate or call it destiny, but Olivia's trip back home to Summer Hill, Virginia, gives her and two other women staying at the estate, Kathy and Elise, a chance to go back in time and make different choices.
"I can send you back in time." Arrieta's voice sounded almost like an apology. "You choose when and you stay for three weeks. Then you come back here. Anyone want cookies?"
"Time travel?" Kathy said. "I just thought this was a…a reading. But time travel?"
When Kathy arrives at the beautiful Virginia estate, she's expecting a relaxing vacation from her hectic life and her philandering husband. Instead she winds up spilling her deepest secrets to two women who have had their fair share of troubles as well. Seeing elegant, put together Olivia doubt her past decisions, and gorgeous, young and rich Elise struggle with a cheating husband whose mistress is pregnant gives Kathy a sense of camaraderie for the first time ever. She knows they've all made mistakes but she hopes they can set things to rights. The opportunity to do just that is handed to the three of them. *If* they're brave enough to believe a woman whom they thought would be doing a psychic reading but who is actually sending them back in time. Olivia, Elise and Kathy each must decide the time frame they need to go back to in order to turn their lives around. And hope that they don't make even more blunders in the process.
'Her fear, one that was seeping into her like some flesh-eating parasite, was that if she wasn't successful at drastically changing things in the three weeks she'd been given, that she'd repeat her past mistakes.'
As You Wish finds us back in Summer Hill, Virginia, with a whole host of characters–some familiar, some new–all of whom were affected by the decisions of three women struggling in their current lives.
'The first time around, she hadn't known that you can't force someone to love you. You can't do enough good deeds or virtuous tasks to inspire love. At least not the kind of all-consuming, passionate love that was needed in a marriage.'
I enjoy Jude Deveraux's imaginative stories and how she brings in elements from classic books and even movies to draw a reader in. But, honestly, I feel all over the place about this book. I think it's one that as a reader you just have to let go, enjoy the ride and don't get caught up in the minutia. I did love seeing three women of differing ages all helping each other through the issues they were facing and seeing the differences in their thoughts and what approach they would take. On the other hand, well, this almost seemed like a novel straight out of the 1980s considering the amount of cheating and manipulating going on. And the fact that some of the characters acted quite cavalier about it? Yeah, that part didn't sit well with me. But…the time travel aspect in the last half of the book was pretty cool. It explored the "butterfly effect", how changing one thing in the past can have a huge affect on everything else in the future.
As we learned about Olivia, Kathy, and Elise's predicaments, the story jumped back and forth from current day to, at times, many years prior. With Olivia, who we focused on the most, her story began in 1970 when she met Kit and then it moved forward from there through how their lives split apart and then merged again. It was so strange to see her as the voice of reason for the other two younger women in the present day when she was quite an outspoken, almost spoiled woman in her early years. But life has a way of putting things into perspective for you, as she pointed out. It was Olivia's situation that probably bugged me most, with her cheating husband and her pushy parents. What I truly wanted was for her to stand up to them and finally make her presence known. Her part of the do-over ended up being almost comical and had some swoon-worthy moments as Olivia eventually found her voice and paved her own way.
Kathy's part of the story was actually the smallest part, really, and it was her husband Ray who we met first. I thought it was rather smart that Deveraux introduced us to him and we got to see what kind of a spin he put on his and Kathy's relationship before we got her view on things. I think some readers might think she jumps to conclusions too quickly about Olivia and Elise, but I kind of got where she was coming from, being the outsider in the group at first. Something she'd dealt with all her life. Her body image issues (and Elise's, actually) broke my heart a bit but I think the ending more than made up for it.
Jude Deveraux's books are nothing if not creative and entertaining. If you're looking for something different, something with romance as well as a chick lit feel to it, I think As You Wish will certainly fit the bill.
Book Info:

Publication: March 6th 2018 | Mira Books | The Summerhouse #3
One fateful summer, three very different women find themselves together in Summer Hill, Virginia, where they find they have much more in common than they realized…
Sixty-year-old Olivia's first marriage was long and unhappy, but now she is a newlywed, thrilled to finally be starting her life with the man she's always truly loved—even if they are getting a late start. Kathy is in her forties and married to a handsome, successful businessman. Theirs would be a fairy-tale romance if it weren't for one problem: he's passionately in love with someone else! Twentysomething Elise is also in a troubled marriage, stuck with the man her wealthy parents chose for her. Now that he has a pregnant mistress, he seems willing to go to drastic lengths to take Elise out of the picture.
Though each of them wound up at the Summerhouse for separate reasons, it's not long before they begin to open up about their regrets, their wishes and their dreams. And when they're presented with the opportunity of a lifetime—a chance to right the wrongs of their past—all three discover what can happen when dreams really do come true.
A heartfelt, magical tale, As You Wish is a shining example of Jude Deveraux's enchanting storytelling that will charm longtime fans and delight a new generation of readers.