Marriage of Inconvenience by Penny Reid is the seventh book in her Knitting in the City series.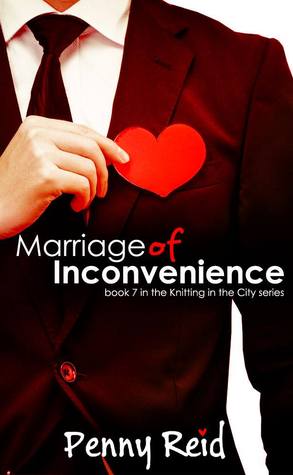 As the title implies it's got a familiar trope and is a romance that readers have been waiting for among this eclectic mix of series characters. While it can be read as a standalone it's more meaningful if you've read the rest of the series. For longtime fans, it's a delightful combination of banter, sexy times, unique plot situations and a chance to catch up with the circle of friends who first came to light in Penny's debut romance Neanderthal Seeks Human.
Dan O'Malley has been a steadfast employee of Cypher Systems and best friend to Quinn Sullivan, the owner, for years. When Quinn started dating Janie, Dan became acquainted with all of Janie's friends in her knitting group, earning his nickname as 'Dan the Security Man'. As part of his security assignment he made dossiers of all of Janie's friends, including Kat Tanner. He knows that she's not just an executive assistant, though very few are privy to the knowledge that she's actually Kathleen Tyson, billionaire heiress to a pharmaceutical empire. He's lusted after her for years, but a misunderstanding in Vegas two years earlier put their tentative steps to a relationship permanently on the backburner. Only now, she's come to him with a request he can't refuse.
Kat is desperate. A family history of mental illness has left both her parents incapacitated, and her in line to inherit a pharmaceutical empire. Her devious cousin Caleb has hatched a plan to have her committed unless she can get married, in which case his guardianship as her closest relative would fall to her husband. With no one else to turn to, she brings her problem to Dan – who promptly agrees to marry her and help her deal with her family problem. It's not long before they confront what happened in Vegas and come to the conclusion that they'd both made mistakes. It might be a little bit backwards, but could their marriage of convenience actually give them second chance to start over, and make them admit their true feelings for each other?
Penny Reid is one of my favorite authors for her ability to write unique romances and characters that you quickly find yourself caring about and wishing could be in your circle of friends too. Kat's always been somewhat quiet and reserved, but with thoughtful advice, and Dan has been ever present as a steady, dependable security guard. They've had eyes for each other for years but they needed this push to make them confront the past and learn to trust each other in the present.
Dan has his own complicated background, with a gang leader brother Seamus who causes them some grief in this story too (as he did in the first story in the series). When he and Kat start their 'married' life, they discover that the attraction between them is mutual, but that doesn't mean they fall in bed together right away. Kat has some performance problems that make this a slow burn romance as she and Dan work through these issues together. The sexy times, when they get to them, are worth the wait.
The one thing you can say about a Penny Reid romance is that it's unpredictable. Yes, there is a guaranteed happy ending but how they get there can sometimes be a wild ride, and this one certainly has a fair amount of action and surprises, especially in the second half. I loved how Dan and Kat come to trust each other and though they both make some mistakes, it makes their relationship even stronger in the end. The ladies in the knitting circle never disappoint with their banter and serious conversations on eyebrow raising topics, and their partners also provide some excellent conversational moments. The epilogue is lovely, yet bittersweet with the knowledge that it's the end of a spectacular series. I'm still hoping there will be another spinoff! Fans of the series will be well pleased with how everything is pulled together.
Book Info:

Publication: Mar 06, 2018 | Self Published | Knitting in the City #7
There are three things you need to know about Kat Tanner (aka Kathleen Tyson. . . and yes, she is *that* Kathleen Tyson): 1) She's determined to make good decisions, 2) She must get married ASAP, and 3) She knows how to knit.
Being a billionaire heiress isn't all it's cracked up to be. In fact, it sucks. Determined to live a quiet life, Kat Tanner changed her identity years ago and eschewed her family's legacy. But now, Kat's silver spoon past has finally caught up with her, and so have her youthful mistakes. To avoid imminent disaster, she must marry immediately; it is essential that the person she chooses have no romantic feelings for her whatsoever and be completely trustworthy.
Fortunately, she knows exactly who to ask. Dan O'Malley checks all the boxes: single, romantically indifferent to her, completely trustworthy. Sure, she might have a wee little crush on Dan the Security Man, but with clear rules, expectations, and a legally binding contract, Kat is certain she can make it through this debacle with her sanity—and heart—all in one piece.
Except, what happens when Dan O'Malley isn't as indifferent—or as trustworthy—as she thought?