At the Billionaire's Wedding:This uber romantic anthology follows four couples, plus the bride and groom, as they all descend upon Brampton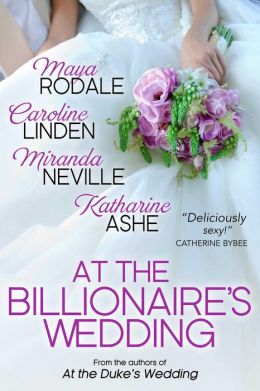 House in England for a week of celebration leading up to the nuptials of Jane Sparks and Duke Austen. If you've been following Maya Rodale's Bad Boys & Wallflowers series, this is the book you've been waiting for. But even if you're new to the story, have no fear. You can read this independently and still enjoy every fantastically decadent moment. 
The Best Laid Planner by Miranda Neville: Event planner Arwen Kilpatrick is thrilled to be in charge of the wedding of the decade in which romance author Jane Sparks will finally be marrying billionaire Duke Austen. Arwen wants to fulfill their every wish, so when their original wedding location has a big mishap, she is tasked to inspect Brampton House to ensure it will fit the bill. While the estate is lovely, the handyman, Harry, is even lovelier. Harry is just as smitten with Arwen but has a secret that could threaten the trust that's been building between them. When he tells her the truth, will she walk away? Or can they salvage the romance brewing between them?
'He was handy at fixing things and great at sex, but there was a whole lot more to life than those two admirable skills. Unfortunately.'
What a great story to start things off! Arwen and Harry were attracted to each other right away but didn't exactly get along at first. That made for some fun sparks between them. I loved how smart and organized Arwen was and that she truly did want to make everything perfect for Jane and Duke so they could have the wedding of their dreams. And Harry had such a wonderfully dry sense of humor while teasing Arwen, or Elf, as he liked to call her. They were a cute yet fiery couple who I could foresee being together for decades to come.
Will You Be my Wi-Fi? by Caroline Linden: Lawyer Archer Quinn wasn't going to take time off to go to his client Duke's wedding, but it will be a chance to get away from the office. Even if his work will still be ever present while in England. Searching for internet access on the estate grounds, Archer finds himself on the doorstep of Natalie Corcoran's cottage, where the most delectable smells are emanating. Chef Natalie is in the midst of testing numerous recipes for her cookbook when hunky Archer shows up. She's not willing to share her Wi-Fi…at first. But the charming guy works his way into her daily routine and then, finally, her heart.
"You've got something sticky on your upper lip, and if you don't lick it off, I will."
She stared at him. Then she reached out, dragged her finger through the frosting on his half-consumed bun, and smeared it on her lip. Archer let out his breath. "I was hoping you'd do that," he said before pushing his chair back and hauling her into his lap.
Natalie and Archer were also a fun couple who had some serious chemistry between them. I loved their flirting, with Archer always teasing her about trying out the recipes she was working on. Everything Natalie mentioned was supposedly his favorite. Sure, Archer… Their story had a thread of passion that kept building and building until it finally overtook them. And boy did they heat up the kitchen with their romance. (Literally!) I think my favorite part though, aside from the yummy food, was how Archer and Natalie both helped each other realize what they wanted out of life and how to get there. Mutual support is magical in any relationship, in my book.
The Day It Rained Books by Katharine Ashe: California "Cali" Blake has been cruising along the streets of Philadelphia in the library's bookmobile, doling out the precious gift that is literature to those in need. When the opportunity comes up to attend the wedding of her college friend, Jane, penny-pincher Cali thinks she'll have to decline. But an anonymous stranger pays for her trip, clothing, and even a nurse for her sister so Cali can make the trek to England. Upon arriving, Piers Prescott, who happens to work for the company that turned Cali's proposal down to fund the bookmobile, is attentive and flirtatious with her. Piers is everything she should detest, but she can't deny their incredible chemistry. But when Cali learns the truth about him, will their passion still be there?
"You have a beautiful heart, California," he said into the profound silence of their locked bodies. "I don't suppose you would consider giving it to me?"
"What?" she whispered.
"Cali, I'm falling hard."
She gripped his arms. "Falling?"
"Fallen."
This novella is arguably my favorite. (Although I loved them all!) It might have something to do with the fact that this was almost a modern day version of Pride & Prejudice. And that Cali was a librarian who was completely devoted to taking care of her sister. I thought it was easy to connect with her character and loved that even though she worked so hard and never got ahead, she didn't let it get her down. Seeing Piers being so absolutely taken with Cali was charming, even if he may have gone about some of it, okay a lot of it, the wrong way. Just the grand gesture scenes (yep…plural) at the end were enough to make me like him and cheer for their HEA. So unbelievably romantic. *sigh*
That Moment When You Fall in Love by Maya Rodale: Maid of honor Roxanna Lane is astounded when her date, and boss, Damien Knightley asks her to get exclusive pictures of the wedding to post on his website. She promised her best friend Jane that there would be no paparazzi terrorizing them over the week of their wedding. But Damien isn't giving up on his quest. And he seems to be hiding the reason why he must have the first story published. Aside from their disagreement, Damien and Roxanna grow increasingly closer and more like, horror of all horrors, a real couple. They both have an aversion to the L word, but everything is pointing them in that distinct direction. Will it scare them away? Or will they be able to handle a serious relationship?
'She kissed him like she was a schoolgirl again, with her heart unabashedly bursting with feelings. The cute boy liked her! Her crush returned the sentiments. Some feelings never got old. And some feelings made a girl feel downright new again.'
I was really surprised by how tender and loving Damien and Roxanna were together. Sure they had been keeping their dating under wraps where he was her boss, but they were actually a sweet couple. I loved how whenever they were thinking about what was happening between them, their inner thoughts would comically skip right over the word love. They learned that just because they didn't want to admit it didn't mean it wasn't happening. There was also a nice thread of humor to this story with everyone being mad at Damien because he's a publisher and made his request for the exclusive pictures known. Poor guy took a lot of flack for that, but he was charming and polite nonetheless.
Overall Impressions: I have to say that this was a very well-planned, clever anthology. And, of course, it was extraordinarily well written as well. I loved that each new novella was not only about a couple attending the wedding, but also built the story, piece by piece, explaining the events as we went along until we got to the big day. The epilogue itself had me in stitches reading Jane's and Duke's individual thank you notes to the guests. Their humor and personalities came through loud and clear in their messages. So much fun!
I think romance fans will be overwhelmed with the heartfelt stories and the HEA's found between the pages of this anthology. Highly recommended.
Book Info

Published October 30th 2014 by Caroline Linden
A stately home in the English countryside seems the ideal place for two successful young Americans to tie the knot.
Until the internet fails.
And the oven breaks.
And paparazzi descend.
And police crash the hen party.
And the four most unlikely couples imaginable discover that passion never waits for perfection, and happily ever after is just an "I do" away…