At The Rancher's Pleasure by Joss Wood is an exciting older woman/younger man Western themed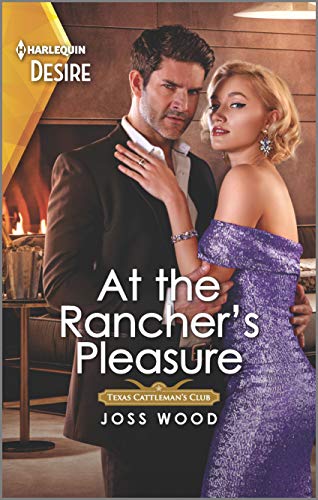 romance.
Sarabeth Edmonds has returned to Royal, Texas to get to know her son Ross Edmonds and grandson Ben after begin estranged from Ross for many years due to her vindictive ex-husband Rusty who kept her from seeing her children when they divorced. She's proud of herself for becoming financially independent with a bestselling cosmetics line, something no one in Royal knows about. But she's not the only one with a reputation that's ripe for the local gossips.
Sarabeth happens to be renting a cottage from Brett Harston who is also persona non grata after breaking off his engagement to a local woman the night before the wedding. He'd realized that they didn't love each other but still cringes inside at the hurt he caused his ex and the way things went down. He's back home and looking to improve his image in the town's eyes so he's planning to be a sponsor for local event, one that happens to be run by the Edmonds.
When the sparks fly between Sarabeth and Brett after an innocent kiss designed to give the rumor mill something to really talk about, a secret affair ensues. But can it lead to a real happy ever after?
I'm a big fan of this author and I'm so happy she's writing for this multi-authored series! Having read Ross's story ( Back in the Texan's Bed by Naima Simone), I find it interesting to hear from the perspective of Ross's mother, and delighted that she finally finds a worthy partner in this story.
Sarabeth is 48 and Brett is 38 – the main discussion between them relating to age is about children but since Sarabeth is too old to have kids (and has been there, done that) and Brett has no desire to have children, there is no conflict to derail their growing relationship. I quite enjoyed having an older, self assured, independent heroine and she herself has gone on quite a journey since being married (and divorced at a young age). In fact, it's that independence that makes it hard for her to see Brett as real partner material since she's used to having to do things on her own.
As for Brett, though he tends to be the rescuing type (animals and people), he finds it refreshing to be with a woman who is capable of taking care of herself. He likes all of the traits that make her the woman she is, and finds her just as attractive as women his own age or younger. Their love scenes are pretty hot!
They each have issues to get past, including dealing with the other people in Royal who are dismissive of their relationship once it becomes known, before they can get to their happy ending. But when it comes, it's quite satisfying. It's a joy to read a romance with an older couple proving once again that love wins at any age! I look forward to reading the next in this series!
Book Info:

Publication: Mar 01, 2021 | Harlequin Desire | Texas Cattleman's Club: Heir Apparent #2
Will this older woman—younger man romance give the town something to talk about?
He bailed on a wedding to the wrong woman,
only to fall right into temptation's next trap
Runaway groom Brett Harston has long been the subject of town gossip—and so has Sarabeth Edmonds, who's returned to Royal after leaving her hateful ex-husband. Soon an innocent kiss to rile the rumor mill unleashes a red-hot attraction they can't resist. Will the wealthy rancher fall hard—or will she be the one to run this time?