Today it is my pleasure to Welcome author
Alexia Adams
to HJ!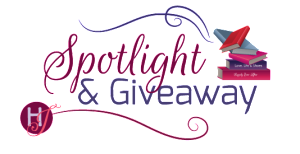 Hi Alexia and welcome to HJ! We're so excited to chat with you about your new release, Over Her Wed Body!

I'm so happy to be here!

Please summarize the book a la Twitter style for the readers here: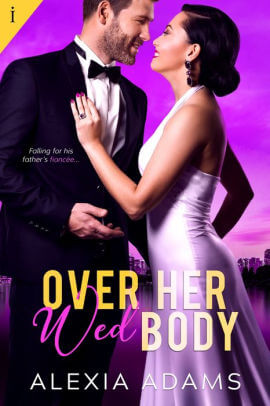 Cora sends every spare penny she has to back to the Philippines. When her nursing client offers her $25,000 to fake an engagement so his overprotective son will return to Dubai, she's torn. Her family desperately needs the money but getting Beckett to leave is the last thing her heart wants.

Please share the opening lines of this book:
Beckett Samuelson rang the doorbell of his father's Vancouver house—his childhood home until the age of eleven, when he'd been kicked out by stepmom number one. It'd been at least three years since he'd darkened this doorstep. So, even though he might still have keys, he had no idea where they'd be now. The twenty-four-hour transit time from Dubai and the past two weeks of sixteen-hour workdays had wiped him out.
Please share a few Fun facts about this book…
Cora is from a very small Ifugao village high in the Cordillera mountains in the Philippines. I visited this area when in the Philippines for a friend's wedding.
Beckett is a Canadian architect based in Dubai who returns to Canada to attempt a reconciliation wit his ailing father. The area where his father lives is full of multi-million dollar homes.
Beckett's first meets Cora when she's having a lightsaber fight on the back lawn with his father.
The picnic scene at Alouette Lake is based on a personal experience.
Lumpia (Filipino spring rolls) and pancit are my two favorite Filipino dishes.
What first attracts your Hero to the Heroine and vice versa?
Beckett first meets Cora when she's dressed as Princess Leia having a lightsaber fight with his father on the back lawn. His normally stern, business-obsessed father is now smiling and welcoming and Beckett has to attribute the change in personality to the warm, loving nurse who has brought joy back to his father's life.
Cora is attracted to Beckett when she sees him longing for a close, loving family. She makes it her goal to help him and his father reconnect, only to find herself drawn to the man who expects rejection rather than love.

Using just 5 words, how would you describe Hero and Heroine's love affair?
sweet, funny, complicated, tender, unforgettable.

The First Kiss…
Just returning from a picnic, Beckett wakes Cora up after she's fallen asleep in the passenger seat:
"Cora, we're"—Home was what he was about to say. But were they really? For her, home was a little village high in the Cordillera mountains in the Philippines. For him, it was… Was it Dubai? Did he really want to return there as much as Cora longed to go to the Philippines? Did he even belong anywhere?—"we're back."
She blinked, then her eyes locked on his. "Oh, I'm so sorry I fell asleep." Her voice was husky and nearly his undoing. Insanity beckoned. As did her lips.
Just one taste. How good could it be? He'd kiss her once, get it out of his system, and move on. He leaned another fraction of an inch closer, giving her time and space to move away if she wanted. Instead, she crossed the tiny gap between them and placed her lips against his.
This was how addiction started. Curiosity, tinged maybe with a little desperation, making a person do something they knew wasn't smart. He lifted his lips to check her reaction. Her eyes were dazed, a light flush tinted her cheeks a fraction darker. He went back for a second hit, just to make sure the first taste had been as good as he'd imagined. Their lips touched again, moved a little this time. Her tongue darted into his mouth, then retreated, a deliberate provocation. He invaded hers. The kiss turned carnal, unrestrained. She moaned his name. Before his mind completely snapped, he pulled back, retreating to his side of the car.
He didn't dare kiss her a third time. If he did, he knew it would be over. He'd be enthralled. Trapped. Addicted.
Without revealing too much, what is your favorite scene in the book?
My favorites scene is at the end of the book when the hero agrees to a traditional tribal wedding ceremony.
A mischievous light entered her eyes. "Thankfully, you brought those chickens, so there may be enough feathers to make your wedding outfit."
She shook out her still damp clothes and started to dress. "Wait, what? I'm going to be wearing chicken feathers? And what else?" Panic started to rise within him and his stomach clenched in knots. He'd read as much as he could find on the internet about the Ifugao people, but there hadn't been any details about wedding ceremonies.
"We're a matriarchal society. So the groom wears a few feathers attached to a G-string and parades through the village. If the general consensus among the women is that he has what it takes to keep the bride happy, then the marriage can go ahead."
Her face was so straight he couldn't tell if she was joking or not. Her eyes rested warmly on his naked body. "I wouldn't worry about it," she continued calmly. "You're more than adequate for the task."
"And what does the bride wear?" This tribal marriage wasn't sounding too good an idea all of a sudden. She couldn't be serious, could she? He wanted to honor her culture but wasn't sure about such a public display of his wares.
If your book was optioned for a movie, what scene would be absolutely crucial to include?
The first scene really sets the tone for the book, when Beckett meets Cora and realizes she's not like any other woman he's ever known.
There were several possible explanations for the scene that played out before him. The most likely option was that he was still on the plane and dreaming. But was his imagination really this inventive? And the fresh breeze off the Pacific felt too real for recycled air. Bees buzzed in the potted lavender by the door and birds sang in the trees at the edges of the property. Nope, he wasn't still at 35,000 feet.
Maybe he'd suffered a knock on the head he couldn't remember and was delusional. He ran a hand through his hair to check for lumps. Nothing. He squeezed his eyes shut and opened them again. Same vision.
Final possibility: he'd died and, by mistake, he'd been sent to some bizarre Comic-Con version of heaven. That had to be it. He was dead.
Damn, there were so many things he'd wanted to do before he died.
***
Cora had done some weird things in her nannying and nursing careers. But this might just take the prize for strangest.
How many of her fellow nurses would dress like Princess Leia and have a mock lightsaber fight with their client on the back lawn of a million-dollar mansion?
Readers should read this book …
if they enjoy sweet, laugh-out-loud multicultural romances with adorable secondary characters and a grand gesture that will make you giggle every time you see a chicken.
What are you currently working on? What other releases do you have planned?
I'm working on a women's fiction series about four 50-something women who, one by one, must find the courage to start their lives over and reach for dreams they had long thought unattainable.
My next release, however, will be another contemporary romance in my Daring To Love Again series.
Thanks for blogging at HJ!
Giveaway:

A signed paperback copy of The Vintner and The Vixen.
To enter Giveaway: Please complete the Rafflecopter form and Post a comment to this Q:

Beckett first meets Cora when she's dressed as Princess Leia. Have you ever worn a costume? If so, what was it? If not, who would you like to dress up as?
Excerpt from Over Her Wed Body:
"You mentioned at dinner that you used to be a nanny. Why did you change from looking after children to old people?"
"Not all my clients are old. Some have had accidents or minor medical episodes and need a little extra help until they're able to care for themselves again."
"You haven't answered my question."
"Nursing is less painful than nannying," she admitted with a shrug.
"Less painful?"
She dragged her gaze from his and semi-focused on the view. "When you spend years caring for a child, you start to think of them as they're your own—you love them as if they were. Then, one day, the parents decide you've gotten too close. Your time is up and you have to walk away and let someone else take over. As you leave, with the child screaming your name… Whole chunks of your heart die." She squeezed her eyes shut to hold back the tears which still formed when the faces of the children she'd loved and had to leave flashed through her brain.
Marta had been the first. A little girl who'd loved Hello Kitty and stories about princesses. They'd been together for eighteen months before Marta was sent to live with her grandparents in Cebu. Cora had then moved to Hong Kong and cared for Xiawei, and had even come with the family to Canada after two years. But when Xiawei had accidently called Cora 'Mom' in front of her real mother, that job had ended abruptly a month later. Then little Gordon had filled the hole in her heart until he'd started school and Cora was no longer needed.
When she opened her eyes, Beckett had moved in front of her and now filled her vision. She sucked in a deep breath. "Then one day, you take a job and swear you're not going to love it…and then you're no good. You've lost yourself."
Beckett was silent for a moment. "And that doesn't happen when you're nursing?"
She shook her head. "My assignments are generally short, a couple of weeks, a few months. And the client usually has lots of other people to love them. All they need are my medical skills and some encouragement. When I leave, everyone is happy. I've done my job and they're better."
"What about those who become attached to you while you're caring for them?"
"I keep in touch for a while. But most clients just resume their former life and within weeks, I'm forgotten."
He shook his head, like he didn't believe that was possible. "You're very good with my father. I've never seen him so relaxed."
Her smile was genuine. "Chester reminds me of my lolo, my grandfather. He was always full of mischief. He'd get us kids to play tricks on my grandmother and then when she discovered the game, he'd look all innocent, like it hadn't been his idea in the first place." Caught up in a remembrance of a happy time, she continued. "Once, he had me and my cousin sew the bottom of my grandmother's pants closed so when she tried to get dressed, she couldn't get her feet through. Lola was hopping around with one leg stuck in the pants, yelling at lolo that she was going to sew up something of his that he might want to use later." She shrugged. "I guess it's funnier when you're six."
The moonlight illuminated his smile although he was shaking his head. "And that's how you see my father? As a prankster?"
"Well, not when I first met him. Then he was frustrated and angry. It took a few days to win him over. I think the turning point was when I put thirty-six rubber ducks in his bed. Since then, we've gotten along great."
"I will remember to check the hems on my clothes before I get dressed," Beckett said. "And my bed for uninvited guests."
"Oh, no. I never repeat the same trick twice."
His smile widened. He really was breathtakingly handsome when he wasn't frowning. "What? No more cheating at chess and lightsaber fights on the lawn?" He almost sounded like he was disappointed.
Excerpts. © Reprinted by permission. All rights reserved.


Book Info:
Beckett Samuelson has had enough stepmothers to spot a gold digger when he sees one. So when his ailing father announces his engagement to the private nurse he's only known for two months—who's also forty years his junior—Beckett has to step in. But as he gets to know the woman, he realizes she's the perfect next Mrs. Samuelson.
If only he was the intended groom.
Corazon Dela Cruz sends every spare penny she earns to her family in the Philippines. Then her latest nursing client offers her $25,000 to fake an engagement to convince his overprotective son to return to work abroad—he doesn't need Beckett's help. But as Corazon and Beckett spend more time together—from picnics on the beach to galas in fancy dresses—she starts to develop very real feelings.
Too bad she's engaged to the wrong Samuelson.
Book Links: Amazon | B&N | iTunes | Goodreads |


Meet the Author:
A former world wanderer, Alexia Adams writes contemporary romance stories that reflect her love of exotic destinations and diverse characters and cultures. She currently lives near Vancouver, Canada with her husband and four children and dreams of a world without housework. As a flight risk mom, romance is her escape and she can often be found with her nose in a book, pretending she's somewhere else.
Website | Facebook | Twitter | | Instagram |