In At the Ruthless Billionaire's Command by Carole Mortimer, Lia Fairbanks holds Gregorio de la Cruz responsible for her father's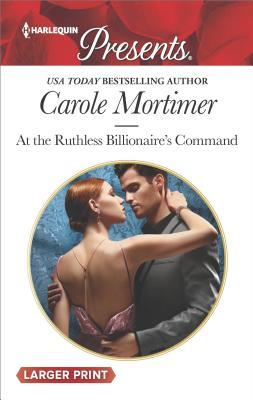 death, so she won't even consider listening to anything has he to say every time he tries to talk to her. Unfortunately, Gregorio doesn't give up, and soon Lia finds herself falling under the man's spell. Can Gregorio find a way to show Lia that they're good together, so they can achieve the happy ever after they both deserve; or will the person her anger should be directed at rip away their chance at forever love?
"He left with a scowl on his face and returns smiling," Sebastien observed mockingly as Lia and Gregorio entered the kitchen together. "You're a miracle-worker, Lia."
She grimaced. "I think you'll find Gregorio was laughing at me rather than with me."
Sebastien shrugged. "A smile is still a smile, for whatever reason."
"Is that such a rare occurrence?"
What an entertaining, fast-paced, wonderful enemy to lovers story Ms. Mortimer has penned in this book where the main characters were compelling; the dialogue was intense due to the heroine's need to blame the hero for ruining her life; and the touch of suspense that had me concerned for the heroine's safety because of someone she trusted. The way this story started had me liking the heroine and her feistiness, as she's not about to let the hero get his way like he does with everyone he does business with.
He quirked one dark brow. "Are you going to slap me again?"
"No." That impulse had passed. Besides, she had never felt tempted to hit anyone before Gregorio.
"Pity." He bared his teeth in a humourless smile as he released her wrist and stepped back. "I believe I would have enjoyed punishing you. Perhaps I still will…" he mused.
As for the main characters, they were relatable, likeable and fascinating due to their back stories and the hostility the heroine has towards the hero that puts them at odds. Will Gregorio be able to win Lia over when she learns the information he has on her father and his company? What danger will the heroine face while she's determined to discover the truth about the information the hero shares with her? While the hero, he's confident, hard-working and I liked how determined he was to win the heroine over, because he's not the enemy. I also liked how protective the hero was of Lia, as he knows the dangers pursuing the truth could bring her way. Since a cornered person could make rash decisions that could leave dire consequences, if they're pushed too far.
Overall, Ms. Mortimer has delivered a well-written and captivating read in this book where the secondary characters entertained me as much as the main ones did, especially Gregorio's brother who thinks Lia is good for the hero. The way this story ended had me worried for the main characters, as the truth finally comes to light. However, it was the moment that Gregorio declared his true feelings that I was charmed by, because it shows honesty is the best policy. I would recommend At the Ruthless Billionaire's Command by Carole Mortimer, if you enjoy the enemy to lovers trope or books by authors Cathy Williams, Kate Hewitt and Michelle Conder.

Book Info:

Publication: August 22nd, 2017 | Harlequin Presents |
Sleeping with the enemy…
Gregorio de la Cruz doesn't care if innocent Lia Fairbanks holds him responsible for ruining her life. But he can't get the fiery redhead out of his mind. He won't rest until he has Lia just where he wants her — ready and willing in his bed!
Lia is adamant that she won't give in to Gregorio's outrageous demands — no matter how wildly her body responds to his slightest touch. She knows she can't trust him…but Gregorio is sinfully persuasive, and soon Lia finds she can't resist the sensual onslaught of this billionaire's seduction!