Long For Me by Stacey Lynn is an amazing read with strong characters, intense emotions, and personal growth. The author was able to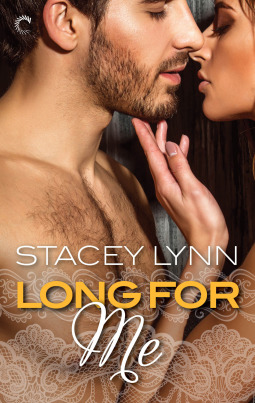 take someone who is completely against BDSM and turn them onto the lifestyle. It only takes one person to change everything and our heroine is in for an eye-opening experience.
Rebecca Morales agrees to visit the sex club, Luminous, with her friend and her husband. Now, Rebecca doesn't understand BDSM. She believes women are allowing these men to beat them for their pleasure and can't believe her friend is into this kind of thing. While at Luminous, Rebecca takes the time to look around and sees that no one is abusing anybody and instead, is immediately spellbound by a Dom doing a demonstration. Not only is Rebecca shocked that the scene is turning her on, but she's flabbergasted when the Dom turns out to be her jerk of a boss, Bennett Ashby.
Bennett can't believe his assistant is at Luminous, but he has no intention of letting her flee without getting a taste of her. Bennett convinces Rebecca to allow him to take her home and rock her world for the night. Rebecca agrees as long as it's only for the night and nothing changes at work. It doesn't take Rebecca long to realize that one night with Bennett isn't enough.
I loved Bennett. He was brash, confident, and highly observant. He's also sweet, caring, and loving. The chemistry between Rebecca and Bennett was through the roof and there were plenty of sexy scenes that proved this. Rebecca was an interesting character. Her backstory shaped her into the person she was before going to Luminous. She has deep issues going on and it's up to Bennett to get to the bottom of them, if there is ever going to be a relationship between them. The thing I loved the most about this story, is that it's clear that Rebecca and Bennett are equal in every way. At work and in bed.
For those who love reading about BDSM or love the boss/assistant trope, this is one book you don't want to miss!
Book Info:

Publication: September 4th 2017 | Carina Press | Luminous #3
My boss already controls my days; do I want to give him my nights as well?
Rebecca
I've seen what happens when you give everything to a man. That's not what I want. I won't have my heart crushed in anyone's fist.
Then he changed everything.
Him. Bennett Ashby. My boss.
Seeing him at Luminous, dressed in leather pants and wielding a whip…
Do I crave this?
My mind says no, but my body is starting to have very different ideas.
Bennett
I knew Rebecca Morales would be the perfect assistant. That's why I hired her.
I didn't know that working with her every day would lead to temptation—to own her, to possess her.
When she walked into Luminous, I knew I was screwed. Dipping your pen in the company ink is never smart, but we both agreed what happens at the club stays there.
One night and then it's back to business tomorrow.
Except I don't want just one night with Rebecca. I want them all.