At Your Service by A.C .Arthur is a sexy fake engagement romance set in the fashion industry.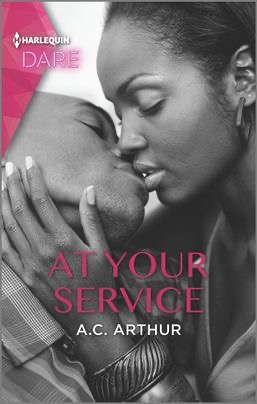 Nina Fuller is looking for a partnership for her new 'At Your Service' fashion accessories app, and she's chosen the Gold family fashion business as her target. Though an embarrassing encounter with the family's tech developer Major Gold started things off on an awkward footing, she's done her pitch and is hoping for a contract.
Major is impressed with Nina's confidence and business acumen- and definitely finds her attractive too. In fact, she's exactly what he's looking for in a fake fiancee to launch the Gold family's new wedding boutique designs. If Nina will agree to a six week fake engagement to launch the bridal line, the fashion company will host her app on their website for the same period of time as a trial. It's an offer Nina can't refuse as she really needs the exposure to help make money so that she can get her dad into a good quality nursing home. Plus spending six weeks in New York City with Major won't be a hardship at all, considering their mutual attraction. But can their fake relationship lead to a real love affair?
I loved this story! Nina is a wonderful character, confident, bold and knowledgeable about fashion and she believes in her product. Getting involved in a fake relationship isn't exactly how she'd planned to get the app out in the open but being seen on the arms of the fashion house playboy is definitely not a hardship. Though their initial intent is business only, it's not long before their fake relationship lands them in the bedroom in some steamy scenes.
Major has one problem with Nina's app, and that's that he had already been thinking of making one along the same lines and starting his own business. I liked that he doesn't keep that information from her, or try to use her ideas but reveals that they could end up as rivals. As his feelings toward her deepen, he tries to think of ways to keep her around, though Nina misconstrues his motives and he has to convince her that his feelings and motives are genuine.
I really enjoyed the setting, the fashion industry events and the day to day business of running a fashion empire. Major's family members are important secondary characters and their closeness as a family is wonderful as is their dedication to their company. Nina and Major get a believable happy ending, and I am definitely planning to read more of this series!
Book Info:

Publication: Jul 01, 2020 | Harlequin Dare | The Fabulous Golds #2
App entrepreneur Nina Fuller's having a hellish day. And it just got worse. So much worse. She just ran smack into someone tall, dark and delicious. And so, so hard. A man whose smooth, tantalizing voice slides across her skin, stroking her libido. Making her want things she's not allowed to want…
Which is a problem, since fashion exec Major Gold isn't just a dish of mouthwateringly hot proportions. Known as the Fashion House Playboy, he's the one who can make Nina's newest accessory app a roaring success. Or not. But Major wants something else from Nina. An arrangement that means they could both get what they want.
Provided, of course, Nina is willing to spend the next six weeks pretending to be his fiancée.
Nina is a woman who knows exactly what she wants—and that includes Major. His touch unleashes a sexual force unlike anything she's ever known. Explosive. Addictive.
And when it comes to tempting Nina, Major is definitely not going to be good as gold…