Lead Me Back by C.D. Reiss: After being blackballed in the New York fashion industry for speaking her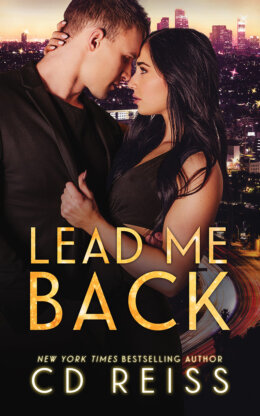 truth, Kayla Montgomery finds herself packing up everything she owns and a few rolls of prized denim and driving down to L.A. Where on her very first day in her fresh start Kayla not only gets a ticket for driving and talking in the phone, but having received a call from a crazy old lady demanding she bring flowers for her to give to her lover. Being the nice person that she is Kayla goes about getting the flowers for the strange old lady and to give the previous owner of her new number a piece of her mind about not informing people of his change of number.
"She curses like a fucking sailor, wears crazy-ass shoes. If you owe her money? Forget it. She will park on your lawn until you pay up. You sit her down and tell her what you just told me, and she'll tell you exactly how far to pack that shit up your ass."
The last thing that Kayla expected was to see non other than boyband heartbreaker Justin Beckett and for him to insist that she play secretary to his old number. With the strange request to contact him every time a call from Vegas come to his old number so begins their strange friendship. When Justin gets her a job as part of the costume department the pair begin to get closer and what started of as just steamy banter soon develops into heated feelings.
The last thing Kayla wanted was to be the focus of media attention after what happened in New York, and now with her new relationship with Justin coming to light, she finds her past being put into to spotlight. The question that now lays in front of both of them is, is their relationship worth having to deal with some media focus.
"Doing something to make her happy, though . . . that was like a nuclear bomb of unicorns and rainbows in my heart. Too lame to put in a song. Still true."
I am a huge fan of a Hollywood romance and Reiss has done a wonderful job with developing this romance. Both characters had so much dept to them and they touched on some very serious topics. I loved that instead of portraying Kayla as a weak victim Reiss made her this badass chick, that stood up for herself as well as up to Justin and his fame.
"What's confusing? The movie's shot, and either I sucked or I was good. I can fire Ken right now. I can tell Slashdot to suck it and finance my own album. Or not. I don't care. I don't need permission to make music, and I don't need permission to love you."
The thing that I loved the most about this novel was that it was so real, the characters and their feelings had a very real and relatable feel to them. Be it the lifestyle and less glamorous side of being a celeb or be it the aftermath of having an absent parent and the resentment that stems from that. On that note I feel it is worthy to mention the growth of Kayla's relationship with her dad.
Lead Me Back is definitely a stand out slow burn Hollywood romance that I would highly recommend not only for a beautiful love story but also one that touches on a number of very relevant and important topics.
Book Info:

Publication: July 7th 2020 | Montlake |
A twist of fate proves wildly explosive in New York Timesbestselling author CD Reiss's smart and sexy Hollywood romance about the cost of running from your past to get to your dreams.
Cutting all ties, Kayla Montgomery drives cross-country to Los Angeles. New start. New life. And an unexpected new job: assistant to Justin Beckett.
The Justin Beckett.
The boy band rebel with the cocky attitude and dreamy bed head who casts a spell over his fans and tests the patience of his handlers.
Now at the peak of Mount Adulthood, he has to build a clean-cut, movie star image. It's in his contract. No partying. No attitude. No groupies.
To tie it together, he needs a normal girl.
Suddenly, Kayla's swept up in Justin's glamorous world, and his arms. But the most dizzying thing is Justin himself. Sweet, generous, reliable, and as eager to shed his past as Kayla is hers.
About that…
Those ties she thought she'd cut? They've followed her across the country with her secrets in tow, and they're about to test Kayla's courage, Justin's loyalty, and a love that wasn't part of the deal.