#Awestruck by Sariah Wilson: Ashton is smart, ambitious, and loves sports, especially football. She dreams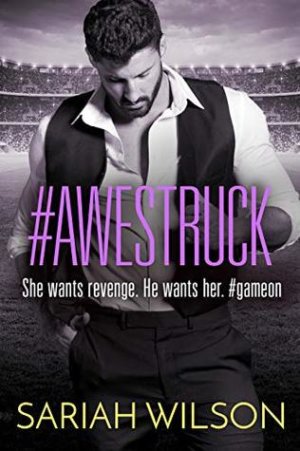 of becoming the first woman as an on-air announcer during football games, and she's hoping her current internship takes her one step closer to finally achieving that dream. After being crushed and humiliated and then bullied for falling for Evan, her friend and the high school quarterback, years ago she's pretty much off men entirely.
Evan has a seemingly charmed life. He's one of the top quarterbacks in the NFL and making more money than he could ever spend. He's sexy, charming, and the seeming boy next door with his clean lifestyle and determination to remain a virgin until marriage despite the criticism, jabs, and suspicion over his choices.
When the network decides to pursue an expose on Evan and his supposed virginity, Ashton can't volunteer fast enough. She doesn't want to hear his excuses for their painful past and she relishes the thought of taking him down. It's easy enough to get access to him through her football-connected family, but she's in for quite a surprise.
"We're not in a fight," I said as he got back in his seat. "That implies us both devoting a lot of time and energy to it, which we're not." Liar, my inner voice whispered. "Think of it more as an ongoing, detached mistrust of you and everything you say."
"I severely underestimated you anger, and I'm not someone who underestimates anyone. Ever."
Ashton is in big trouble. She might not be quite over her crush and Evan is sexier than ever. As they spend more time together, she finds that Evan is a bit of a dork but they click and connect even more than they did in high school. They begin to spend a lot of time together and he definitely puts on a full-court press to pursue her and earn back her trust. The lines blur and their relationship feels very, very real.
"So, good kiss, right?" he asked.
Good kiss? Great kiss. Spectacular kiss. Life-altering kiss. "I suppose."
"What you're saying is I did something right?"
"Law of averages," I told him. "It had to happen eventually."
#Awestruck is funny, sexy, and not a book you want to put down. Sariah Wilson reels you in with an intriguing plot, banter, sizzle, heat, conflict, and surprises. Ms. Wilson developed a highly entertaining cast to include Ashton's family and the wives and girlfriends of the other players. #Awestruck can be read as a standalone in this series. Fans of Aurora Rose Reynolds and Corinne Michaels will love #Awestruck.
Book Info:

Publication: Expected publication: January 8th 2019 | Montlake Romance | #Lovestruck #3
A sweet all-American story of love and revenge.
Ambitious intern Ashton Bailey is about to get closer to her dream of being a sports announcer. All she has to do is prove that too-perfect-to-be-true NFL quarterback Evan Dawson isn't quite as wholesome as his contract requires. It's also the perfect opportunity to get delicious payback on the boy who broke her teenage heart. At least that's her plan. But she forgot just how easy it is to crush on the irresistible charmer. #OhNoNotAgain.
Evan has a knack for getting through the opposing team's defenses, and he won't let this tall, redheaded knockout be the exception. He's determined to make things right between them and earn back Ashton's trust—and maybe her heart, too.
Then the press mistakenly announces their engagement, and Ashton and Evan find themselves going along with the lie. Now the whole world is watching as Ashton flirts with attraction and disaster. But while revenge is sweet, it just might come at the cost of something sweeter still.