In The Italian's Inherited Mistress by Lynne Graham, It seems each time Isla Stewart and Alissandru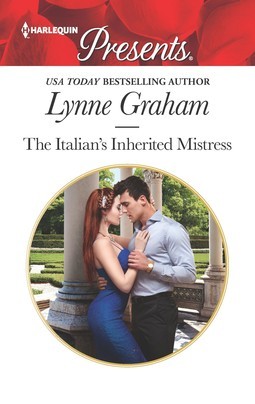 Rossetti meet there are sparks. Sometimes it's sparks of attraction. And sometimes–most of the time, actually–there is a whole fireworks display from them butting heads. Somehow the two people who are polar opposites can't seem to stay away from each other for long, though, even with a past so filled with differences of opinion and miscommunication. But neither Alissandru nor Isla can ignore that heat that draws them together. Even with her inheritance being a thorn in his family's side. And as the truth about the Italian estate she inherited comes to light, and the consequences from their attraction add up, will Isla and Alissandru work through their issues? Or will they need to part ways forever?
'Two people as different as she and Alissandru could only be a bad fit.'
The Italian's Inherited Mistress was a billionaire and virgin romance that really showed off the level of heat and complexity that Lynne Graham is capable of in her work. There was as much passion as there was drama between our main characters. And the dramatics were interesting in their own right, thanks to the tangled up, complicated past they had together.
'For Alissandru it was as though everyone else he met was depicted in monotone grey and only Isla was shown in full colour.'
Alissandru and Isla were basically an opposites attract couple. She was a former waitress who was saving up for university while he was the wealthy head of his family's business in Sicily. There were hidden depths to both characters; things that were unexpected and made me like them more for what they had been through and accomplished. But Isla and Alissandru were not without faults, of course.
It might give some readers pause over how demanding Alissandru was, as well as how he jumped to conclusions before gathering all the facts. Although under that prickly attitude was a wealth of emotion and kindness, thankfully. Isla herself was very independent and only gave as much info to Alissandru as she thought was pertinent so in some respects I don't blame him for some of his attitude. She was a very caring woman overall who had overcome a tough childhood and was trying to find her way in the world. I thought with Alissandru being so well-traveled and worldly, it was a nice balance to Isla's naivety.
With fun fireworks–both verbally and physically–between our hero and heroine, as well as their adventure taking them from Scotland to London and then to Sicily, The Italian's Inherited Mistress was an exciting, entertaining romp.
Book Info:

Publication: Published November 20th 2018 | Harlequin Presents |
From untouched virgin…
To the Italian's mistress!
Yearning for a fresh start, Isla Stewart escapes to her recently inherited Sicilian villa. The last person she expects to meet there is Alissandru Rossetti, the ruthless billionaire who once helicoptered into her life, and changed it irrevocably with his sizzling seduction! Alissandru wants what's rightfully his—Isla's inheritance. But with the attraction between them as scorching as ever, what Alissandru wants more is Isla…back in his bed!
Get swept away by this classic tale of innocence and passion!