Baby in the Making by Elizabeth Bevarly: What is this the 17th century? In order to inherit their must be a baby here or on the way?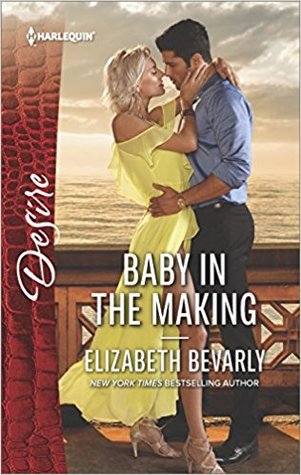 Hannah Robinson is thrown a curve ball that in this day and age no one expects. Then on top of that he makes an offer to a man she has only dreamed of. What is going on with life? What's more, what is going on in the world? Can this small town, five borough girl go to a world traveler in a matter of months?
Yaeger Novak was used to traveling and going on so many adventures that he didn't think about one more. Until his life shifted and life and death because real. What was he going to leave behind when he took his last curtain call? Maybe just maybe his seamstress had the answer.
Hannah and Yaeger have been talking for a while, have been acquaintances for through work and she has learned many things about Yaeger, but when her life shifts, she is going to lean a whole new side of Yaeger.
Ms. Bevarly has given her readers this story that has the ability to melt your panties at the same time telling this story of improbability that makes you glad to be in this century where this stuff doesn't happen all that often. There are some hard issues in here as well that are dealt with quickly and very lightly but prove that it's not all sex and adventure. This is a good quick read for those who like "awakening" stories with some heat.

Book Info:

Publication: Published December 5th 2017 | Harlequin Desire |
A long-lost billionaire's will leads to a baby pact. Only from New York Times bestselling author Elizabeth Bevarly!
The grandfather Hannah Robinson never knew has left her billions! If she becomes pregnant within six months. Hannah yearns for safety and stability. So it's ironic that danger-loving adrenaline junkie Yeager Novak is the perfect candidate to father her baby. Yeager's certainly up for the task—but only if they conceive the old-fashioned way while on an epic adventure.
It's the perfect arrangement. Until Hannah realizes she wants more than a family. And until Yeager realizes the dangers of risking his heart…