The Love Experiment by Ainslie Paton: Derelie is the office rookie reporter and her section the less-respected lifestyle "clickbait"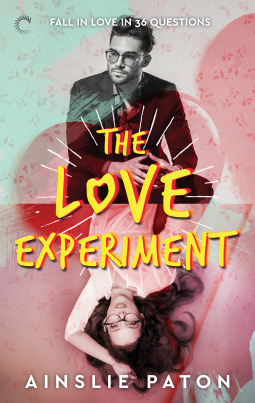 articles. Jack is the top investigative reporter. Untouchable, with his face plastered on billboards and city buses. When they're assigned to work on an article together, writing up their experience with the "love experiment" which is a study designed to accelerate intimacy using a list of questions and eye contact, sparks fly.
Jack isn't so nice to Derelie as they begin as he actively avoids the project to work on his new investigation and talks down to her. But Derelie isn't going to give up. Not when she's set on staying in the business and rising in power. As she forces Jack into participation, he begins to notice her. Her strength. Her beauty. Her stubbornness, and her fire. And Jack doesn't want to look away.
From a small and close-knit town, Derelie has been having a hard time adjusting to the big city, but Jack is quickly becoming her comfort. They fall hard and quick for one another, but as changes as work occur and Jack is forced to face his own insecurities, their love experiment may just fail.
I think this story was just an adorable idea, and it totally came through for me. I love both Jack and Derelie. They have a perfect mix of bite and sweetness, and I just fell hard for them as a couple. Jack, especially, the utter sweetness of his thoughts and actions towards Derelie killed me.
Derelie, too, was wonderful. Strong and inspiring, she was definitely a good match for Jack. They did fall fast which isn't always my favorite, and I can't say it felt real, but I loved it all the same. The passion they had for one another just held me. And, of course, it was funny, too.
I highly recommend The Love Experiment for those who love a lightly neurotic and deeply intense investigative journalist and want a romance with the perfect mix of sweet and sexy.

Book Info:

Publication: October 2, 2017 | Carina Press |
Can you fall in love in thirty-six questions?
The closest rookie lifestyle writer Derelie Honeywell gets to megastar reporter Jackson Haley is an accidental shoulder brush in The Courier's elevator. That is, until the love experiment: a study designed to accelerate intimacy using thirty-six questions and four minutes of sustained eye contact.
As far as Derelie is concerned, Jack Haley has always been a man best imagined in his underwear. He's too intimidating otherwise. But participating in the love experiment is her make-or-break chance. With another round of layoffs looming, Derelie knows holding on to her job means getting the story no matter what. Even when the what is kissing Jack like a maniac.
Jack Haley has zero interest in participating in a clickbait story. He didn't plan on finding Derelie smart and feisty and being mesmerized by her eyes. He certainly had no intention at all of actually falling in love with her.
The conclusion to this experiment? Thirty-six questions might lead to love, but finding the answer to happily-ever-after is a lot more complicated.