Baby Surprise for the Spanish Billionaire by Jessica Gilmore: Sometimes a change of scenery is all you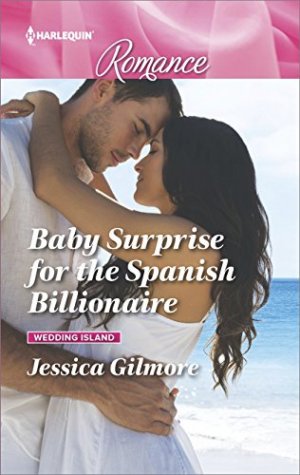 need to have a change of heart and a change of life. Sometimes it takes a little bit more, like a shock to the system.
Dr. Anna Gray knew about that, and it was a shock to her system to see how her family's island, the family resort looked after 3 years away. She had run from it after the last shock to her system and now she had one month to make it all better. What did she know about fixing a resort?
Leo di Marquez y Correa was sent by his half sister to check out the resort where she was to say her vows. When he got there he almost turned around and left, but something or rather someone convinced him to stay. Now he was trying to figure if who he was, not just if the island was right.
Leo and Anna had a lot going on in their lives and they were both living behind the masks they wore, but when the masks come off will they be happy with who they see?
This is a short book with very little "extra" in it, but what we do get from Ms. Gilmore is a fantastic love story that is more about learning to love ones self as well as learning to love someone else. The main characters are great and the story sets up part two really well. If there is a complaint to be had it's merely that it's not enough. The style and flow of words is so eloquent that it takes the reader to a small Spanish island just ready for the sun and sand. This is a perfect winter break pick me up.

Book Info:

Publication: March 1st 2018 | Harlequin Presents |
It started with an island romance… …and led to one very surprising consequence!More at home with a book than on the beach, Dr. Anna Gray has stepped out of her comfort zone to help her mother prepare her Wedding Island resort for its first event. But when delicious Leo di Marquez sails onto La Isla Marina, Anna is tempted into dropping her guard, one kiss at a time–and with unexpected consequences!