Playing House by Amy Andrews is the latest sexy romance in her Sydney Smoke Rugby series. It's a 'one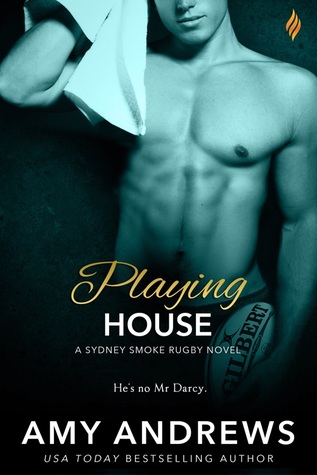 night stand becomes more' trope story, with a Sydney Smoke player and a quirky down home heroine getting a chance to fling caution to the winds, then having to deal with the unexpected consequences.
Eleanor Davis, sister of Sydney Smoke player Ryder, has a growing online business designing and sewing historical fashions. If it makes her a bit of an odd woman out in the Australian Outback, so be it. When Ryder brings his team home to celebrate his engagement, Eleanor hides out on the fringes of the party, like the wallflower she is in real life. She doesn't expect to catch the eye of Bodie, one of Ryder's teammates and best friends.
Bodie can see the beautiful woman in the shadows trying to blend in with the potted plants and makes it his mission to draw her out. He succeeds brilliantly, resulting in one of the hottest one night stands he's ever had. He has to go back to Sydney, but Eleanor is not easy to forget and he finds himself developing an urge to study Victorian lingerie and keep an eye on her website too. When Eleanor comes to him a few months later with bigger problems than how to get more website clicks, Bodie is happy to step up and show Eleanor he's the real deal. Can he convince her to give a relationship with him a try?
I've really enjoyed every story in this series for good reason – they have genuinely likable characters, interesting plots, hot sex, and great scenes on and off the rugby pitch. This one has less rugby and more of the friendship aspect of the teammates. Because Ryder and Bodie are best friends, Bodie is torn upon realizing that the daring damsel he slept with is none other than his mate's sister. Oops! He doesn't regret it mind you, he just doesn't quite know what to do about it – because he'd love to do it again. Things take a different turn when Eleanor comes to town. Suddenly they are faced with life changing decisions, and there are some very emotional scenes later in the story that make this story less lighthearted than some of the previous series ones. It's hard to keep out spoilers, but suffice it to say that Eleanor and Bodie learn quickly what it takes to make a relationship go the distance.
I loved the uniqueness of Eleanor's character and how she uses her talents and interests to make a career for herself. That Bodie appreciates all of Eleanor's many talents comes through quickly. He's quite taken with her penchant for historical underthings and this leads to some pretty sexy love scenes. Bodie is a real good guy hero – friendly, generous, supportive and willing to admit to his mistakes. The end features a really sweet scene to bring them their happy ending, particularly meaningful after some more poignant moments. Don't be surprised if you shed a few tears amid the laughs in this one. It's a great addition to one of my favorite sports series.

Book Info:

Publication: Feb 12, 2018 | Entangled Publishing | Sydney Smoke Rugby #5
Eleanor is content with her boring life—mostly. She's even fine being the quirky sister in a bevy of beauties. So imagine her surprise when one of her brother's Sydney Smoke mates hits on her at an engagement party. Her. The weird sister, who wears vintage dresses and prefers her books to parties.
Bodie is shocked the next morning to find the soft, sexy virgin who seduced him with corsets is his best friend's little sister. If he could kick his own ass, he would. And two months later, she's got an even bigger surprise for him. Now he needs to convince the corset-loving wallflower that he loves her uniqueness if they've got a chance at forever.
He always did love a challenge…