Oh I can now officially say that I have fallen hard for a Mob Boss Russian. In The Bastard's Bargain (The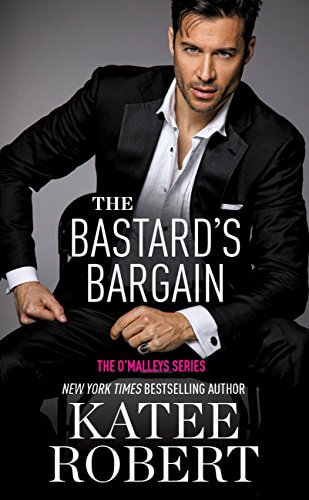 O'Malleys #6) by Katee Robert we finally get to see what makes the hot and very sexy Dmitri Romanov tick. We also get to see what happens to the dynamic between the 4 main mob families when they decide to join forces. have to tell you, this is one series that you will want to start from the beginning. The dynamic between the characters, the history, and what got them to this point are all revealed as the series unfolds. This is the end of an amazing series and it is the story of Dmitri and Keria.
Dmitri Romanov needs a bride, and he is promised one Keira O'Malley. When he learns that her brother and head of the family is going to double cross him, he steals her away in the middle of the night and right to the courthouse where they become man and wife, sealing their fate and making it impossible for her family to take her from him. But he has more to worry about than her family. First he has to help his wife with here alcohol addiction, make sure she stays clean, oh, and try to find a way to make his family believe that he is still in control.
Keira O'Malley dreamed of her wedding day, but never thought that is would turn out to be in a court house, no flowers, no dress, and to a man that while she thinks that he is sexy as sin, she knows that he will never love her. She had deep feelings of unworthiness and sorrow that keep her locked away in a bottle so that she does not have to feel the loss that she has suffered,
But it is Dmitri, who at ever turn shows her that she is more than worthy, she is a queen in his eyes, and he offers her what she has never had before, the freedom to be his equal, the freedom to rule at his side, as he partner, the queen to his king. It is Dmitri that gives her back the joy of painting, something that she has not done since the sudden death of her beloved brother, Devlin, the one person who was always in her corner and always had her back. And it is Dmitri that offers her safety, security, and of all things the love that she so desperately craves.
But when enemies of old threaten Keira, Dmitri will join forces with her family and his other rivals to keep her safe, but when Dmitri is the one taken, Keira will need to step up, become the strong leader and queen that Dmitri knows that she can be in order to get him back before time runs out.
All I can say is WOW! I have always been fascinated with Dmitri Romanov and have seen different layers of his characters throughout this series, and I have to tell you, that this book just made me fall head over heals in love with him. He shows the world a tough and dominate side, but in private, he can be tender, he can be loving, he can be concerned and berates himself when he thinks that he has hurt Keira in some way. He is so protective of her, wanting to comfort and support her in all ways. Keira was a surprise to me. She always seemed like a flighty 21 year old who did not have it together, but in this book, you get to peel back the layers and see that underneath everything, she is wicked strong and has a backbone of solid steel. She is determined and driven. It are these traits that make her such a perfect match for Dmitri. I am sad to see this series come to an end, but what a way to end it. Highly recommended!
Book Info:

Publication: February 6th 2018 | Forever | The O'Malleys #6
When Keira O'Malley was a child, she used to picture her perfect wedding. The flowers. The dress. Her husband. But nothing could have prepared her for saying "I do" to Dmitri Romanov—cold, domineering and always one step ahead of everyone else in the ever-shifting power plays of New York City. She agreed to his bargain to secure peace for her family, and she may want the bastard more than she'd ever admit, but she'll be damned if she'll make this marriage easy for him.
Dmitri knows better than to underestimate Keira for one second. Molten desire smolders between them, a dangerous addiction neither can resist. But his enemies are already on the move, and he needs every ounce of his legendary focus and control to keep them alive. Keira could just be his secret weapon—if she doesn't bring him to his knees first.