Bachelor Remedy by Carol Ross was an enjoyable and extremely touching and intriguing story. It drew me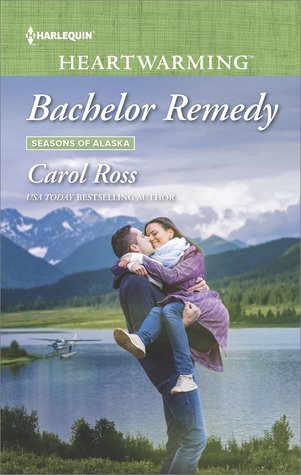 in first because of the Alaska setting- its' such a magnificent state. And secondly, because of the medical aspect- I always enjoy stories having to do with medicine and healthcare.
Tag and Ally are both extremely multifaceted and well developed characters. Tag has passions for flying, for caring for people as an EMT, but also for helping his family and possibly his state by running for office. Ally is at 22 an army veteran, a medic, and also practices ancient native healing practices taught to her by her grandfather who raised her. He is a medical doctor who also practices ancient and natural methods. Tag is attracted to her yet keeps his distance due to an almost 20 year age difference. He is also concerned about her insistence on using natural healing methods- as it is drawing the negative attention of the hospital chief of medical staff. This doctor is determined to fire Ally from her hospital position due to his hatred for her grandfather and for Ally.
Tag and Ally start "casually dating", and in the process she and his sisters slowly befriend each other. Tag wrestles with whether to run for state political office, and with fending off advances by an ex girlfriend.
Ally wrestles with her growing feelings for Tag, and with how to combine modern medical technique with native practices she believes in. Can she and Tag find a way to reconcile their differences of opinion and find a future together? To find out, I highly recommend fellow readers read Bachelor Remedy. I very much enjoyed this novel!

Book Info:

Publication: April 3, 2018 | Harlequin Heartwarming | Seasons of Alaska #5
She's the most unconventional woman he'll ever meet…and the cure for a perennial bachelor?Raised by her healer grandfather, former army medic Ally Mowak knows her alternative approach to traditional medicine puts her at odds with most of her Alaskan town. That includes Tag James, the rugged transport pilot with the sprawling family and political ambitions. Ally couldn't be more wrong for the aspiring senator. Then why does everything feel so right when they're together?