The Firstborn Prince by Virginia Nelson: When Natalie's PR to the stars career is destroyed with the reveal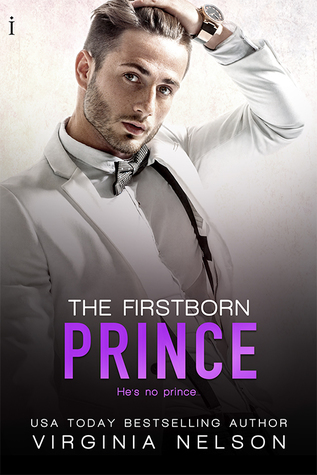 of one of her client's secrets, she's desperate to get back on top. Enter Foster Boyd. He wants to hire Natalie to distract his brother and business partner as he takes over the family business.
Foster knows he can't get involved with Natalie, especially not when he hired her for the exact opposite reason, but the attraction runs hot between them. And even though Natalie sees a relationship between them ending her career forever, she finds him too irresistible.
The one condition is that they're simply fun. Foster does not do relationships, not after his parent's issues. But as they work together, neither one may be able to walk away.
I like THE FIRSTBORN PRINCE for what it was. Sexy fluff. The characters held hints of depth, but mostly it was about the attraction. As such, I think the author did a good job; I certainly wanted to keep reading.
That said, I did find the characters somewhat ridiculous, and the reasoning behind their decisions unsound. However, I believe Foster and Natalie were a match in strength and care. I felt their sparks, and I rooted for them as a couple. I really just wished the brother had a better and stronger part in the novel.
For those who love damaged playboy billionaires I recommend THE FIRSTBORN PRINCE. It's certainly a fun and highly sexy romance.

Book Info:

Publication: March 12, 2018 | Entangled Indulgence | Billionaire Dynasties #3
Foster Boyd wants control of the family business before his brother's escapades ruin their reputation. Since he can't force his brother out, he needs to distract him–or reform him. Where can he find a woman willing to do anything to save his business?
Natalie Stolen was at the top of her game as image consultant to the stars. But when one of her client's reveals a juicy secret, the media went on a feeding frenzy, taking down Natalie's career faster than she could say "scandal." Now in dire straits, she's been given an offer she can't refuse…
But what happens when the woman you hired to distract your brother is the only woman you can't stop thinking about?