In Guardian's Bond by Rhenna Morgan, Priest is attempting to rebuild the clan years after his brother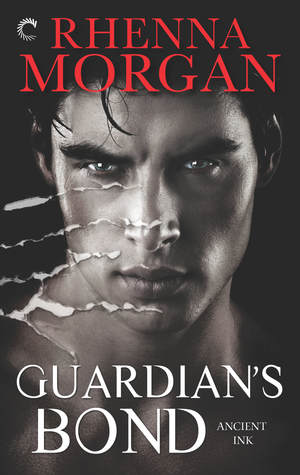 destroyed it by killing clan members and stealing their power. After battling his brother and taking the power he had stolen, a dark power lives inside him, and he fears that the evil will overpower him. When a clan elder from his past returns with her two grandchildren, he immediately recognizes Kateri is his mate. The problem is her parents were murdered two weeks earlier and while her grandmother explained to them about the clan, Kateri has a hard time believing in magic and animal companions. She and her brother grew up not knowing about the clan's history because their father had rejected his soul quest. Now, before he can claim her, Priest has to convince her of the truth. When someone from his past shows up, putting everyone in danger, Kateri has to accept what she is before it's too late.
I had a hard time getting into the book at first. It started off slowly but eventually it picks up. I thought the author brought an interesting twist to the paranormal genre. People can either accept their soul quest or not. If they don't, they don't get assigned their gifts (healer, warrior, or sorcerer) and their animal companion. They can go on living as strictly human. If they accept the quest, they have to face their pasts before being assigned a gift and an animal that suits them from the Keeper, who appears in a different form to each person.
I liked Priest and Kateri as a couple. Based on his position, Priest needed a strong mate and Kateri fit the bill. She wasn't afraid to stand up for her family and agent Priest when she needed to. She also has no hesitation jumping into battle even if it puts her in danger.
I thought the author did a good job setting up the world of the Volan, which is what their kind is known as. At times I thought it went into too much detail though, which dragged the book down at points.
Quite a few secondary characters are introduced in this book, leading me to believe some, if not all, will be getting their own books. I'm looking forward to reading more about them. Also, the danger from Priest's past is not resolved in this book. I'm interested in seeing where the author is going to take this series and how she's going to resolve it.
I would recommend this book to those readers who enjoy paranormal stories and are looking for one that has a unique twist to the genre.

Book Info:

Publication: March 12, 2018 | Carina Press | Ancient Ink #1
Priest Rahandras has lived with the darkness trapped inside himself for years. Betrayed by his own brother and forced to watch his clan's brutal annihilation, the only thing Priest wants more than to escape the curse that haunts him—as both man and beast—is to rebuild.
Until the mate he's longed for walks into his life with an elder from his past. She's everything he's wished for, and the key to the clan's very survival.
Kateri Falsen is a woman of logic and facts. While Priest's cat can sense her arousal, telling her they're fated won't be enough. He'll have to show her his love: with his words, with his actions, and with his body.
Protecting Kateri from the evil trapped inside him is paramount. But when lost clan members are systematically murdered, he'll have to choose between exposing his mate to his black magic, or risking her as the next victim.