In Back To You by Jessica Scott, Trent has been away at war more than he's been with his wife Laura and their children. Trent has become more and more distant, and Laura has become more and more lonely. Laura is tired of waiting, tired of waiting for that phone to ring. She wants her husband back, but the more time that goes by the more she feels he will never come back to them, physically or mentally. With a heavy heart, Laura has filed for divorce and is trying to move past the heart ache.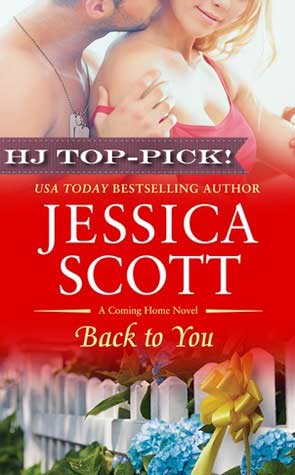 Trent has never been the same since he literally died and was revived while at war. Trent has so many unresolved feelings and issues, and he feels more at home at war than he does at home with his family. He is definitely not the same man Laura married. The threat of divorce is not what finally brings Trent home, but a possible court martial. Home again though, Trent sees what he's missing. He doesn't want to lose his wife, but he doesn't want to drag her down with him. Soon though, Laura may be his only shot at redemption. Laura agrees to help Trent – for the sake of their children. As they spend more time together, Laura sees sparks of the old Trent with the new Trent. Trent still loves Laura and is determined to do everything he can to overcome their problems and move forward together. Can she take the chance on love with him again, or is that just begging for more heart break? Is there any hope for a future without war between them?
It is impossible not to feel for Trent and all the issues he's facing. He's kept his emotions buried for so long it's getting harder and harder for him to deal with them. And not only is Trent trying to cope with a marriage that's fallen apart, he is facing possible court martial and all that entails. We walk along beside him in his journey…and whether or not you have any military background the feelings and fears are ones the reader can relate to.
Laura is a strong heroine who has finally reached her breaking point. She's not quite ready to throw Trent completely out of her life though yet…she can't just dismiss what they had, she's not ready to dismiss him. Watching her struggles makes Laura seem all the more real and as weak as she feels sometimes I think she's the stable person in the midst of Trent's nightmare, the hope he clings to even as she works hard to hold it all together for herself and their children.
Trent and Laura's journey in Back To You, as individuals and as a couple is an poignant journey that is more complicated than most relationships, and Jessica writes a very touching story.
Jessica Scott write realistic, emotion filled military romance. Jessica gives us a sense of realism and a different look at war. She writes with feeling and strength about the struggles faced at war and at home, by those serving and those left waiting. Her characters always have us right there with them, and it is no different with Trent and Laura. A fiction book with fictional characters, Back to You has a strong, matter of fact base in reality that is a real eye opener – at times dismaying and at times heart breaking. I love that Jessica doesn't try to glorify war or wartime romance, she writes it like it is or can be.
Back To You can be read alone, but I recommend reading Jessica's other books too, where you will meet an extraordinary group of men and women. I'd highly recommend Back To You to any romance reader, particularly military romance readers. Jessica's background give her a unique perspective on this that you won't want to miss.
Book Info:

Publication: January 7th 2014 by Forever
He's in for the fight of his life . . .
Army captain Trent Davila loved his wife, Laura, and their two beautiful children. But when he almost lost his life in combat, something inside him died. He couldn't explain the emptiness he felt or bridge the growing distance between him and his family—so he deployed again. And again. And again . . . until his marriage reached its breaking point. Now, with everything on the line, Trent has one last chance to prove to his wife that he can be the man she needs . . . if she'll have him
. . . to win back his only love.
Laura is blindsided when Trent returns home. Time and again, he chose his men over his family, and she's just beginning to put the pieces of her shattered heart back together. But when Trent faces a court martial on false charges, only Laura can save him. What begins as an act of kindness to protect his career inflames a desire she thought long buried—and a love that won't be denied. But can she trust that this time he's back to stay?