In Back to You by Robin Kaye Storm left Red Hook years ago…away from painful memories, but also away from his adopted family and from Bree. Bree loved Storm and was ready to give herself to him, but in Storm's eyes that would make it impossible to leave. Storm rejected Bree that night many years ago and left Red Hook without a backward glance…something Bree has never forgiven or forgotten.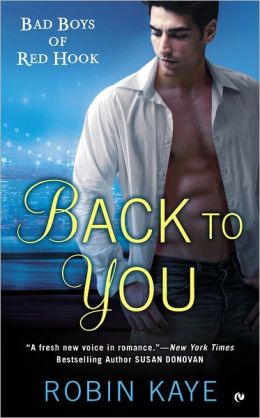 Storm suddenly reappears in Red Hook when Pete, the man they both consider to be a father figure becomes very sick, Bree is shocked and angry. She still has feelings for Storm, her body still reacts to him, and she is sure he's just going to take off again at the earliest opportunity. On Storm's few and brief trips back to Red Hook over the last 11 years, he's managed to avoid Bree. He was convinced he was not good enough for her, and giving into their feelings would have been no good for either of them.
There is no avoiding Bree this time though as they both want to help Pete recover and be there for Nikki, the little girl he's taken in. Storm is devastated when he sees Pete again, seeing how sick he looks. At the same time, he still feels a strong attraction for Bree. He has no idea that for all these years Bree has let the grudge she carries grow and grow. This time he is ready to act on his feelings and see where things go, but Bree is having no part of that! Bree seems to hang on tight to her anger and bitterness, which was surprising since she's grown into such a successful and caring woman. She is not going to give an inch where Storm is concerned, even if her body tells her differently! She seems to use every chance she can to shoot Storm down, even though as he said "Breezy, I ran away once, and I've spent the last eleven years regretting it. I'm not the same man I was then."
Despite Bree's trust issues and the uncertaintly of a future together, Storm is intent on winning Bree over. Between caring for Pete, facing his past, and getting to know Nikki, Storm sets about doing this. But will it work? Will it be worth it? Storm still has insecurities and issues from his own childhood in Red Hook, can he and Bree find the healing of time and move on from past hurts?
Bree and Storm are both very strong characters in Back to You. I have to admit I had a really hard time tolerating Bree and the way she was treating Storm. She sure held onto a lot of teenage heartache over the years, letting it fester! I couldn't see the pull for Storm, but it was obviously there! Bree was a realistic character however, and outside of her issues with Storm she seems to have made a nice life for herself. She seems to be a caretaker for everyone else, including her mother, and she is working hard to turn Red Hook into a safe, good place. Bree knows Storm has dark things in his childhood, but she seems to have trouble really understanding when Storm has never opened up to her. He will need to if he wants to have her trust and love again.
I really liked Storm, the tortured man! He had a terrible childhood and was basically rescued by Pete. Despite his bad experiences, he has moved on and made a success of himself. We got enough of Storm's background to know it wasn't good, I don't think we need to now further what he suffered as a child. He takes what Bree dishes out to him, even though he had no idea how she'd felt for all these years. He wants to do things differently this time around, and will have his work cut out for him convincing Bree!
Bree and Storm are both stubborn, driven, and realistic people. I loved all the secondary characters Robyn gives us in Back to You, they are really an integral part of the story and I am sure we'll see more of them in the next book of this series.
Robyn gives us an emotionally charged romance, where the characters have a lot going on in their lives. I'd recommend this to anyone looking for a more complicated romance story where you can love and hate the main character(s) at different times of the story! She'll keep you on edge, waiting to see what will happen. I can't wait for the next book in this series!
Book Info
Release date: December 31, 2012 | Series: Bad Boys of Red Hook (Book 1)
Award-winning author Robin Kaye proves that home is where the heart is, even for the bad boys of Red Hook, Brooklyn ….It would take a miracle for Storm Decker to return to Red Hook—or a tragedy. The neighborhood holds too many painful memories of his troubled childhood, along with the mistake that sent him running from the kindness of the ex-cop he'd come to consider his father. But when Pete suddenly falls ill, Storm is called home to face the past he tried to leave behind long ago…
Breanna Collins never expected to see Storm again after he left town without a word, breaking her heart. She's angry that he can't seem to appreciate all the changes in their hometown. But she still feels a powerful connection to her old flame. And unless she can remind him of all the reasons to stay, she knows he'll never stick around long enough to give their romance the second chance it deserves….