Back Where She Belongs by Dawn Atkins is a reunion romance that will leave an impression on your heart. This book is full of romance, mystery and intrigue. You will be kept spellbound and glued to your seat as you read!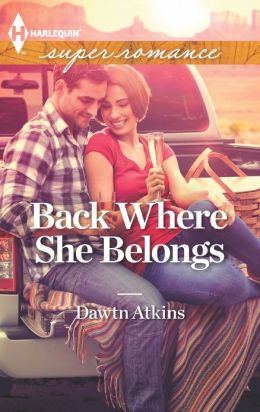 It has been ten years since Tara Wharton has been home. When her father and sister are in a car accident that takes her father's life and leaves her sister in a coma, Tara rushes home to be by her mother's side. She has rarely spoken to her parents over the last ten years and her mother is not all that happy to see her.
Tara is at the hospital visiting her sister when Dylan Ryland steps into the room and brings back all kinds of memories. Dylan and Tara were high school sweethearts that went their separate ways when Tara went off to college and Dylan stayed behind to run his families business. When things about her sister's accident don't add up, Tara turns to Dylan to help her decipher the clues. What appears to have be an accident may just turn out to be foul play.
Dylan finds that even after years apart, he still carry's a torch for Tara. As he helps Tara cope through her father's funeral, it becomes apparent that there is still chemistry between the two.
Their eyes met and a current passed between them, making the air seem to crackle. He'd forgotten the power of their physical connection, the way it took down his walls, pushed past any caution, any sense.
Will Tara and Dylan be able to leave their grievances behind in the past so that they can have a future together? Will they be able to discover what really happened the night of the accident?
Dawn Atkins has written an emotionally tense story. Her characters will work their way into your heart and they won't let go. The mysterious accident adds to the plot and keeps you guessing all the way to the end. This is the perfect book to curl up with for a night of reading pleasure!
Book Info
Publication Date: March 5, 2013 | Series: Harlequin Superromance (Book 1841)
Sometimes you can go home againAs the black sheep of her family, Tara Wharton has done her best to stay away. That is until a car accident has a tragic impact on her family. Now she's back in town and looking for answers. And her quest reunites her with Dylan Ryland, her high school sweetheart.Dylan is just as gorgeous now as he was then. She's so tempted to resurrect what they had, but the issues that drove them apart haven't gone away—especially the animosity between their families. Yet Dylan seems determined to get past the obstacles, even as her quest reveals secrets that change everything. Because maybe with him she's exactly where she belongs.