A Playboy's Love Affair by Emily Quinn defies convention. Sure, sure, its a Contemporary Romance but it could be a lot of different things. And I like ALL of those things it could be!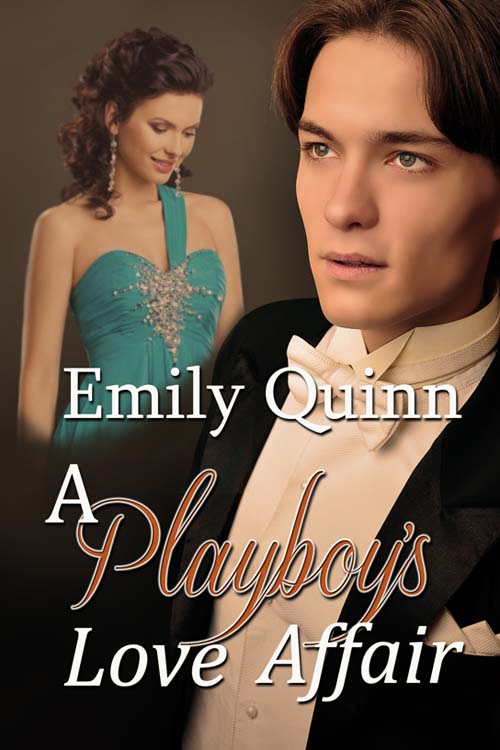 First off, I don't know why this popped into my head when I was reading it but I thought that if you took out all of the modern-type references, this could be a Historical Romance! Maybe it was the cover art on the book or maybe it was the references to contracts and reputations. I don't know and it's probably just my own twisted brain getting in the way. But I really liked it. It has all the things that I love about Contemporary Romance (cell phones, women with careers, hot water, indoor plumbing) but for me, it still had a Historical kind of feel to it. Whatever, on to the juicy bits!
Carly Mitchell is seriously a chick that has it all figured out. Well, compared to ME she does! She's got an amazing career as an Interior Designer, she's got a great wardrobe (no easy feat), great friends and a pretty great fiancee. Umm, until she catches her fiancee cheating on her with his secretary (of course!). We don't get a lot of info about the bastard fiancee but it doesn't matter because he's a means to an end. Later, when Carly sees him approaching at a party, she wants to save face but also wants to avoid talking to him so she does what any sensible woman does: she kisses the closest guy she can grab! LOL! Ok, well, it wasn't EXACTLY like that but she DID want to piss her ex-fiancee off and there would be no better way than to be "caught" making out with notorious playboy, Alex St. Jones. See? That's what I like about Carly! She sees a problem and figures out a solution. Boom, done. She's strong and practical and that's pretty great. But she also doesn't take crap from people either. I guess, for me, Carly is pretty much an ideal heroine. She's got all the good things and just a dash of vulnerability, which makes her very likeable.
Alex St. Jones on the other hand is the ideal playboy. Uses women as he pleases and them leaves them. He comes from family money but has made his own fortune in the architecture business he formed with his friends. He's so much fun to HATE when we first get to know him! Carly's brilliant idea to avoid her ex ends up costing Alex millions of dollars since Carly's ex had just signed this huge agreement with Alex's firm. Needless to say, the deal is off and Alex feels that Carly owes him something for his troubles. See??? Isn't he such a bastard?!?! LOL! He draws up this contract and Carly agrees to it. Maybe this would never happen in the real world but come on, Carly kinda digs this guy so why the hell not? I don't want to go any further into the details but you see what kind of guy Alex is, right? Not much to like. No, really… I really didn't like him. At all. But then you start to see little bits and pieces of why Alex is the way he is and it makes a little more sense, but more importantly, I found myself not hating him!! And then, I found myself liking him!! The author was absolutely toying with my emotions aaaand I think I like it! LOL!
Throughout the book, the POV switches back and forth between Carly and Alex. Now, I don't know how the author did it but I found myself sort of rooting for whoever's POV it was at the time. Like, when it was Carly's POV, I totally got where she was coming from and I was all kinds of Team Carly. But then, when it was Alex's POV, I was thinking that Carly was unreasonable and Alex had the right of things. Usually, that's not how it works for me. I find the character that I like and that's who I root for. Not so with this one. The author is devious and it's just not fair! LOL! Something else that was unusual was how NOT formulaic this novel was (look at my big words!). I mean, we all know the usual way that romance novels go. This one made a couple of route deviations along the way and I was pleasantly surprised! You think you're about to either get your HEA way too early or some terrible tragedy is about to occur but then you're going off literally to a place you didn't anticipate. And then you think that the novel is winding down and that you're about to get Alex proposing to Carly somehow and Boom! Another thing comes up! I mean, I think it was at least twice that I was thinking, "Well, this is going to be a shorter book than I thought and I hadn't realized that this was a novella but it was pretty good…" and then Alex does something surprising or Carly reveals a detail that I did NOT see coming and it's another emotional hurdle that these to have to get over together.
Overall, I really enjoyed this book! I think that the cover art might be a little misleading since Alex looks like he's from 1800's England but then Carly looks more modern, but that's just me being nitpicky since I couldn't find much to not like about this book. Oh, the first couple of chapters were a little confusing for me. I couldn't tell if we were reading a flashback or if things were happening out of order. Its only the first couple of chapters and it's evident pretty quickly what's going on. One other thing I liked: the author has put in these little faux snippets from a celebrity watcher show and I thought that was really clever and neat. Not that I would ever watch one of those shows…. 😉
I would recommend this book to anyone who likes naughty playboys! I might even recommend this to someone who normally reads Historical Romances because I still stick by my guns and say that this occasionally feel like it has some historical sensibilities to it, even though I can't put my finger on it. And no, it's not just the cover!!! LOL! Either way, this is a fun read that has plenty of surprises. I can't wait to see what the author has for us next!
Rating
Publisher: The Wild Rose Press; Champagne Rose 1st edition (March 25, 2013)
What a playboy wants, a playboy gets…
Alex St. Jones, black sheep of the famous St. Joneses, is the playboy of playboys whose only love affair is his freedom. He lives by one rule: Enchant them. Seduce them. Leave them. But that's about to change when a midnight temptress stumbles upon him and demands he kiss her.
Carly Mitchell wants nothing to do with Alex St. Jones. She hates his good looks, his arrogance. Plus, he won't leave her alone no matter what she does. Most importantly, she hates that she's falling for him. But she's determined not to go down without a fight and to teach him a lesson at that.
Alex may have met the one woman he cannot tame, but he doesn't plan on letting that stop him. Will Carly withstand his charms? When two strong personalities collide, sparks are sure to fly.