Bad Bachelor by Stefanie London: Reed is sexy, charming, and an unashamed playboy. He doesn't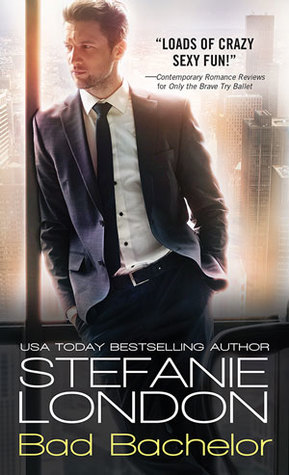 believe in love or commitment, but he's also very honest about his intentions upfront. Reed is also really committed to his up and coming career in PR where he brings in high powered clients and makes them shine. Reed has grown cynical of the world he inhabits and relies on his baseball league and friends to ease his stress. He's a devoted son who would do anything for his dad.
Darcy loves her books and her job as a librarian. She loves reading all genres and helping out the kids and the community through their various programs. She's avoiding all romantic entanglements and men after the disaster that was her near-wedding. She's feisty, smart, loves black, and wears her ink like armor. She hates being told what to do.
In an effort to get back into the world of dating, she tries out the Bad Bachelor app. She wants to find a good man and hopefully avoid heartbreak, but she doesn't know how to go about meeting the guys she finds on the app. And then she's floored when none other than Reed, the #1 bad bachelor, waltzes into her library to offer his PR services to plan a fundraiser.
"If I shot you down, you'd be bleeding on the floor. Trust me, that was nothing."
His lips quirked. "And here I was thinking I'd get lucky because you're wearing a dress."
"Not by choice," she huffed. "And certainly not for you."
Reed and Darcy don't exactly get along at first. She resists his advice and she challenges him at every turn. But through working together, although reluctantly, she learns that they just might have quite a bit in common. There's more to Reed than his many bad reviews that seem to grow each day and he hides his softer, caring, more gentlemanly side. Acting on their chemistry might be the best and worst thing they've done.
"Maybe I'm old fashioned, but I thought dating was about getting to know someone without preconceived judgments." No apology for his tardiness…as she'd expected.
"If you'd actually taken the time to get to know more women, you wouldn't be in such a bind."
To her surprise, he laughed. "You know what? I like you, Darcy."
Bad Bachelor is engaging, entertaining, sexy, and heartbreaking. Stephanie London created a unique dating app and explored the good, bad, ugly, and both the intended and unintended consequences of social media in today's world. Ms. London developed Reed and Darcy as complicated and realistic characters with interesting family and friends. Fans of Tara Leigh and Cecy Robson will enjoy Bad Bachelor.

Book Info:
Kim| 4 Stars | Nope! | No |
Publication: Expected publication: March 6th 2018 | Sourcebooks Casablanca | Bad Bachelors #1
Everybody's talking about the hot new app reviewing New York's most eligible bachelors. But why focus on prince charming when you can read the latest dirt on the lowest-ranked "Bad Bachelors"—NYC's most notorious bad boys.
If one more person mentions Bad Bachelors to Reed McMahon, someone's gonna get hurt. A PR whiz, Reed is known as an 'image fixer' but his womanizing ways have caught up with him. What he needs is a PR miracle of his own.
When Reed strolls into Darcy Greer's workplace offering to help save the struggling library, she isn't buying it. The prickly Brooklynite knows Reed is exactly the kind of guy she should avoid. But the library does need his help. As she reluctantly works with Reed, she realizes there's more to a man than his reputation. Maybe, just maybe, Bad Bachelor #1 is THE one for her.