Bad Boy Rancher by Karen Rock is set in one of my favorite states, Colorado. It's always a joy to read a story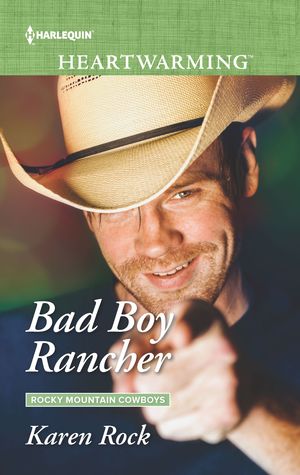 that takes place in a locale a reader is familiar with. Unfortunately, this is the third in a series, and it did not feel like it was easy to read as a "stand alone".
There is major animosity between the small mountain town's two oldest families, the Cades and the Lovelands. This becomes especially apparent when the widowed matriarch of the Cades is seriously involved with the widowed patriarch of the Lovelands. Most of the Cade siblings, though, are comfortable with this except Justin Cade, who detests the Lovelands. Justin Cade also detests most of life, and keeps taunting death with daredevil activities= feeling worthless after his twin brother dies.
In comes Brielle, who is opening up a drug and alcohol treatment center which is drastically opposed by many of the local residents. Brielle is also a veteran of the war in Afghanistan and suffers from PTSD. She tries to help her clients while keeping her distance. She cannot figure out what drives Justin to his death taunting stunts. He, in turn, surprisingly speaks in her favor regarding opening the clinic.
When Justin makes a surprisingly positive connection with a young teen in the clinic, Brielle starts to think he may be able to make a difference for the clients, and she starts to open up to him and to the clients. She is also in a race against the clock to prove the clinics' worth to the town.
Though the book starts off slowly, it did continue to improve as I read farther along. I am now compelled to read the first two in the series, and then perhaps re read Bad Boy Rancher.
Book Info:

Publication: April 3, 2018 | Harlequin Heartwarming | Rocky Mountain Cowboys #3
He's not the only one who needs saving…But maybe they can save each other? Dark, brooding, dangerous…and possibly suicidal. Renegade rancher Justin Cade was exactly the kind of man former army chaplain Brielle Thompson needed to avoid after escaping the horrors of Afghanistan with an honorable discharge–and PTSD. The whole point of moving to the remote Rocky Mountains of Colorado was to leave the darkness behind, not fall back into it. But falling she is…