A San Diego Romance by Kianna Alexander is a sexy second chance romance for two college sweethearts.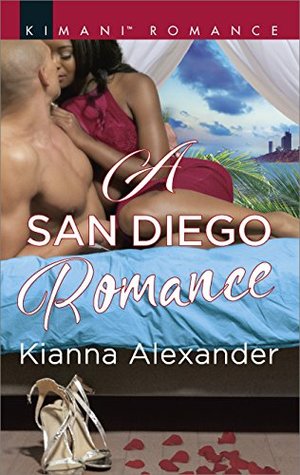 It's part of the multi-author Millionaire Moguls series about a group of men who belong to the San Diego chapter of Prescott George, a club for African American millionaires.
Chris Marland is a hard working, successful architect and a divorced father of teenaged twins. He's the president of the local Prescott George chapter and it's been having some problems lately, with a break-in and a vandalism charge from one of their members against his own daughter. It's particularly bad timing with an upcoming gala they are supposed to host. When Eliza Ellicott, his college girlfriend shows up looking for her brother and fellow member Vaughn, it's a blast from the past, and a good one. While Chris had ended things with Eliza fourteen years earlier for reasons he didn't divulge at the time, he'd been on the rebound when he met the woman who would become his wife due to an unexpected pregnancy. He'd put thoughts of Eliza out of his head and been faithful to his wife. But now that he's divorced, he can admit how good it is to see her again.
Eliza's heart was broken when Chris dumped her, but she's long since moved on. She's had some relationships since then, though none have stuck. Still, she'll be the first to admit that she's thought of him in the ensuing years. He's even more handsome now than he was when they were young, and he makes it clear he's interested in rekindling their friendship, and something more. Eliza has her own successful business with a designer boutique that is gaining a lot of new clients. Though she'd always wanted kids too, and had hoped to have a career and a family, she'd ended up with just the career.
When Chris asks her out on a date, Eliza is wary. She doesn't want to get involved with Chris again if it's only going to end in a broken heart. She agrees to seeing him as friends, and is a sounding board for his relationship with his kids. It doesn't take long for the attraction between them to heat up. Before they'd taken things slowly and never been fully intimate. This time around, Eliza is ready to make her own choices and is happy to indulge in some mutual sexual satisfaction. When Chris realizes he wants more, will he be able to convince Eliza that they really do belong together?
I really enjoyed this reunion romance! Eliza is a confident, smart businesswoman who has worked hard to make her boutique successful. She's knowledgeable about fashion and style and helps her customers make flattering choices – including Chris's daughter JoJo who needs a dress for a school dance. Chris's equally successful and his home is a beautiful example of his architectural style, complete with an infinity pool. He's currently working on a design for a new museum of sustainable art and true to the theme of the museum he's doing his best to use green materials in the design. The plot is current and the setting is well described and inviting.
Chris's relationship with his thirteen year old twins, a boy and a girl is challenging but rewarding. Though he only gets them for part of the time, he tries to make the most of it even though they are at the age where hanging out with Dad is not their favorite pastime. Though he and his ex-wife don't have the best relationship he is careful never to speak ill of her in front of his kids, which is admirable. Then there is the matter of JoJo being accused of vandalizing a sculpture, something Chris must deal with, as well as figuring out who is trying to damage the reputation of the club.
Chris comes to treasure the times he spends with Eliza whom he can confide in, and finds himself falling in love with her all over again. They share some steamy scenes together as they reconnect. As for Eliza, she feels the same way about Chris. There are a few ups and downs and some interesting revelations on the way to the happy ending for this couple but it's well worth it. I'm looking forward to reading more from this author and catching up on the other books in this series!

Book Info:

Publication: April 17, 2018 | Harlequin Kimani | Millionaire Moguls
Heaven in his arms…Christopher Marland, president of Millionaire Moguls of San Diego, is too busy for a personal life. The moment Eliza Ellicott arrives back in his world, he knows no woman has ever compared to his first love. A broken heart gave Eliza the drive to succeed and she's opened a new boutique. She'll gladly help Chris's teenage daughter, but her heart is closed to him. Can she learn to trust again?