I went into Still Me (Me Before You #3) by Jojo Moyes with absolutely no expectations what so ever and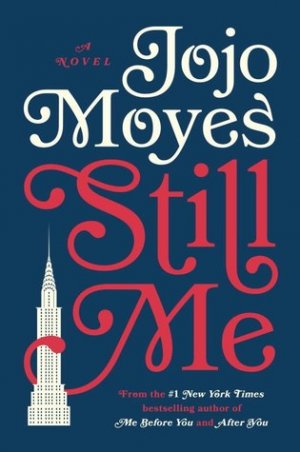 here is why. I loved Me Before You! To this day, it is still one of my favorite books of all times. So, of course when After You came out, I had to read it, and I went into that book with expectations and ideas of where I felt the story should go (queue the "Ghost" soundtrack here) and I felt let down. What I can tell you is this, after reading Still Me, I now get it. I not only get it…..I want more! I understand now why Lou had to go through and experience everything that she did in After You.
Still Me picks up right where After You ends, so I will tell you now, if you did not read After You, do it before picking up this book. Lou is now in New York, ready to start a new job and start a new adventure. What she has yet to discover is that the family that she is working for has a very strange dynamic and she gets sucked right into the drama. When she meets someone who reminds her of the past it shakes her to her core!
Being away from Sam is hard on Lou, and she tries in the worst way to keep their relationship going, keep the connection between them, across the distance. There are a series of misunderstandings between the two. And of course Sam being Sam, and a man no less, does not see his new female partner as anything more than a partner, but Lou sees her as a new threat.
When Lou is confronted by her new employer about missing money, she keeps her silence to keep her word to the person she swore to help. But when it cost her her job, Lou is at a loss. Does she even know who she is anymore? She will need to figure it out. Does she stay in America and try to make a life for herself, or does she go home to the safe place she has always known? Can she keep her relationship with Sam together, or will she move on to a new love?
This book has so many different things happening, that it is really, really hard to write this review without giving the story away. What I can tell you is that the ghost from the past who takes up some of Lou's present, I get it! It was meant to show her what her life might have been like had Will never been in the accident. He would have been that guy. The one that wanted her to change, the one that looked at her like she was crazy in her stripey legs, and her crazy vintage outfits. Sam and Lou, I even get that too. It took the bad to make them both realize how much they truly loved each other. It took Lou stepping outside of herself, finding the courage to ask for something for herself for once, instead of trying to please everyone else. At her core, she is the quirky, funny, klutzy, lovable Lou that makes the readers fall in love with her.
So, did I laugh? You bet! Did I cry? I have an empty box of Kleenex to prove it. Did I fall in love with these characters all over again? Absolutely. So, I want more. I want to know what the fabric of Lou's life will look like now. I want to know what happens next. I want to continue to follow her on her amazing journey.

Book Info:

Publication: January 30th 2018 | Pamela Dorman Books | Me Before You #3
Louisa Clark arrives in New York ready to start a new life, confident that she can embrace this new adventure and keep her relationship with Ambulance Sam alive across several thousand miles. She steps into the world of the superrich, working for Leonard Gopnik and his much younger second wife, Agnes. Lou is determined to get the most out of the experience and throws herself into her new job and New York life.
As she begins to mix in New York high society, Lou meets Joshua Ryan, a man who brings with him a whisper of her past. Before long, Lou finds herself torn between Fifth Avenue where she works and the treasure-filled vintage clothing store where she actually feels at home. And when matters come to a head, she has to ask herself: Who is Louisa Clark? And how do you reconcile a heart that lives in two places?
Funny, romantic, and poignant, Still Me follows Lou as she navigates how to stay true to herself, while pushing to live boldly in her brave new world.