Bad Princess by Julianna Keyes is a delightful novella about a woman who constantly finds herself in trouble and a man who falls for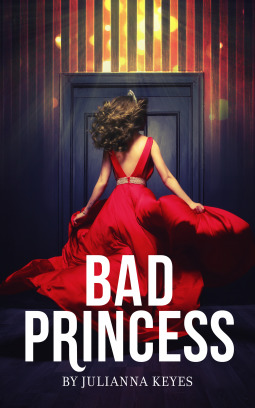 her just as she is.
Princess Brinley Cantrella of Estau can do nothing right, while her sister Elle is perfect – at least until Elle abdicates her role as next in line to rule the kingdom by running away with a lumberjack. When Prince Finn, betrothed to Elle since childhood, arrives with his family to deal with the situation, a moment alone for him and Brinley results in a compromising scene – and a hastily arranged marriage. Finn is opposite to Brinley in every way, yet they find themselves quite compatible in the bedroom. Still, will this marriage of convenience turn into a lifetime of love?
What a fun read! I've enjoyed the books I've read by this author before but didn't know what to expect with this rather fanciful royal romance. The fictional alpine countries and palace settings are delightfully laid out, as are the opposites attract characters of Finn and Brinley. Brinley kept a hidden crush on Finn out of the sight the moment she found out he was supposed to marry her sister Elle, and certainly never expected to be the one to marry him in the end. But she knows she's far from the perfect princess. Things just seem to happen around her, the kind of things that make her parents shake their heads in despair. Her saving grace was being away for a few years at school where she got to indulge in some sensual delights, such that she isn't a virgin when she comes home, and isn't shy in the bedroom.
Finn on the other hand keeps his emotions to himself. He's quiet and contained, though much of this is due to a very restrictive and borderline abusive upbringing. He learned to follow the rules – and has envied Brinley for years for her ability to thwart them. He's quite in awe of her, and finding himself married to her by chance leads him to many discoveries, not the least of which is that he can be quite passionate with the right partner. They share some pretty sexy scenes together. Finn's family unfortunately isn't on board with the married couple and causes some trouble, which leads to the conflict that must be resolved. Fortunately Finn makes the right choices when it counts, and we get a lovely happy ending for this modern fairy tale romance.

Book Info:

Publication: Nov 27, 2017 | Self Published – Julianna Keyes |
Notorious for leaping off roofs, maiming foreign royals, and that twerking incident, Brinley Cantrella of Estau is nobody's definition of a good princess. She's fearless and bold, not good and gracious. And after a lifetime of being told she's unfit to be queen, wearing the crown and helping to usher Estau into a new era is the one dream she's never dared chase.
But when her older sister abdicates the throne, all Brinley has to do to inherit the role is not twerk, not maim anybody, and definitely not get caught fooling around topless with Prince Finn, her childhood crush, the only man she's ever loved…and her sister's former future husband.
Finn embodies the definition of good. Tall and handsome, serious and honorable, he always does the right thing—including agreeing to marry his ex's sister to cover up this latest scandal. Brinley has fallen down stairs, broken teeth and broken bones, but this is the first time her heart has ever been broken. She now has the crown and the prince, and on the surface, life is good—but is being married to a man everyone swears could never love her back good enough?