In The Brightest Embers (Broken Destiny #3) by Jeaniene Frost, As the last Davidian, Ivy knows that her destiny to save mortals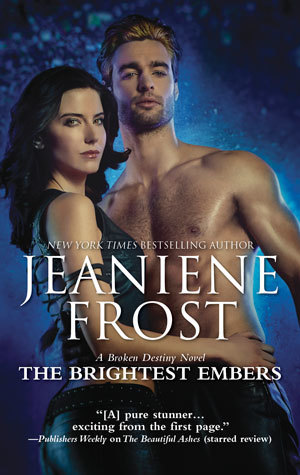 trapped by demons will likely be her final act. And she thought she had made peace with that until her love for Adrian, the man who should have been her enemy being that he's the last Judian, grew out of control and took them both by surprise. Now tied together in as many ways as possible, Ivy and Adrian are united in their fight to rid the world of demons. But the battles they've faced in the recent past are nothing compared to what they are now facing.
'Had I ever done something just because it was right, and not because it also helped me or the ones I loved?'
With Ivy's sister Jasmine, their friend Costa, and a gargoyle named Brutus in tow–along with Zach, an Archon in God's army, popping in to make unexpected appearances–Ivy and Adrian both realize there are more lives at stake than just their own. And that will of course affect how they complete their mission to find the final hallowed weapon. Along the way they will be forced to make gut wrenching, not to mention, life changing choices in order to have a final showdown with demon Demetrius and his minions. But as long as Ivy and Adrian succeed in freeing those being held prisoner and ridding the world of as many demons as possible, their sacrifices will be worth it in the end.
'I wasn't risking only my life by searching for the spearhead–I was risking all of theirs, and the deck was more stacked against us than I'd realized.'
The Brightest Embers was a pulse-pounding, insanely epic ending to the Broken Destiny trilogy and I hated to put it down for even a second. The emotions were more intense and the stakes higher than ever for our hero and heroine but they faced everything head on with courage–and with the knowledge that their love could conquer just about anything.
"I told you once before, my every action is driven by my undying love for you, and that, Ivy, is the real truth."
Talk about a book hangover! Jeaniene Frost saved the best for last with this final book about Ivy and Adrian's fight to save humanity. And what a fight it was. Now, I will say it's not necessarily for the faint of heart, especially for those readers who avoid gory fight scenes. Frost didn't pull any punches, detailing those passages in a very, ahem, realistic manner. But watching how things played out in the battles between Good and Evil was so exciting. And not all of it went down the way I thought it would. Not in a bad way, though. Even Archon Zach had a few tricks up his sleeve (and was as cryptic as ever) but he had a few surprises for Adrian and Ivy along the way that took the story in directions I didn't necessarily see it going.
Just like in the previous novels, the struggle for each character to balance their lighter and darker sides was a big focus. We saw huge character growth for both Adrian and Ivy, but I felt like Ivy particularly challenged herself to become the person she was destined to be. There were certainly some tough, heart wrenching moments to get through that made me want to ask the characters what they were thinking. (lol) But I really did love watching Ivy and Adrian work their way through their personal and relationship issues. Frost did a wonderful job conveying the strong, absolutely lovely bond between them which in turn meant it would be devastating if their destinies were ultimately fulfilled.
With plenty of ups and downs, twists and turns, joy and heartbreak, this final installment brought out all the feels in this reader. As sad as it is to say goodbye to Ivy, Adrian and the rest of the crew, I think The Brightest Embers will satisfy fans and leave things in a more positive place than they may have hoped for.
Book Info:

Publication: Expected publication: November 28th 2017 | by HQN Books | Broken Destiny #3
You can run from your destiny, but you can't hide…
Ivy thought that she and Adrian had conquered their fates. Yet with thousands of innocents still trapped in the demon realms, she's determined to locate the final hallowed weapon and harness its unparalleled power to free them. But the last relic nearly put Ivy in the grave—there's probably no coming back from this one.
Adrian's dark lineage has made him the most powerful of his kind, yet even his incredible abilities might not be enough now. Instead, the treacherous fate he has fought so hard to escape might be the only way he can save Ivy. Their scintillating bond has been tested before, but never with so much on the line. Now fate will come head-to-head against true love, and nothing they've endured can prepare Ivy and Adrian for the unthinkable choices they'll face…
Don't miss the earth-shattering conclusion to New York Times bestselling author Jeaniene Frost's Broken Destiny series!