Bad Reputation by J.C. Harroway is the second book in her steamy Pleasure Pact series where 3 best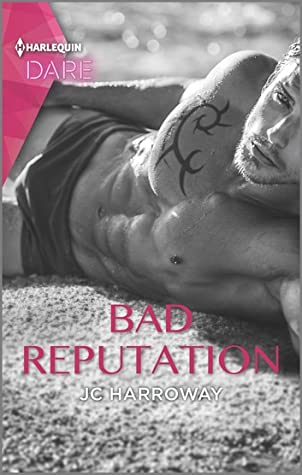 friends – Grace, Neve and Brooke- vow to regenerate their sex lives with a fun, no strings attached fling. In Bad Business, Grace had a vacation fling with a sexy paddleboard instructor that turned into an exciting romance. Now it's Neve's turn.
Neve has always had strong feelings for her best friend of nine years, Oliver, but kept it under wraps. Oliver is a playboy and she's seen that he's in it for a good time but no more, and she values their friendship. Oliver often asks her to be his date for important events so that he doesn't give the impression to one of his flings that it's getting more serious, and this time it's a wedding for his cousin, on a beautiful Maldive beach. But Neve has made a pact with her friends that she's going to try to entice Oliver into something more.
Oliver can't take his eyes off of Neve in her red string bikini, until he accidentally discovers the bag of sex toys she brought in her suitcase. Suddenly the wall he'd erected between them is coming down and he can envision her in his bed. When Neve indicates that she's all for it, they agree to a sexy fling with the condition that their friendship will remain intact. But what happens when one of them realizes that they're in love with the other?
This is a tried and true favorite trope of many, the friends to lovers plot, and I'm definitely a fan! When Oliver finds out that Neve has never had an orgasm with another person (and how self conscious she is because of it) he sets out to prove to her that she's perfectly normal and it's the men she dated that had the problem. He succeeds of course, in several steamy sex scenes.
But Oliver has hangups about being in a real relationship due to his past. His aging rock star father is on his sixth wife and it's taught Oliver that marriage and commitment are overrated. Plus he made some mistakes when he was younger that he still regrets and feels guilty about. The paparazzi like to follow him around and Neve has already been in photos with him before, so he worries about her exposure to the press if they were to be an actual couple. It's why he believes that going back to being just friends after they are back home will be the only avenue to keep her safe. But his feelings for Neve have grown stronger and it's too late to put the genie back in the bottle.
Neve got exactly what she wished for – a sexy fling with Oliver, but she can't stop thinking about him in this new light. She's always had feelings for him and they've just gotten stronger. She knows Oliver wants to protect her but he still makes some mistakes and has to realize them and make amends before they can get their happy ever after. I enjoyed seeing their relationship develop (and I loved the beach location!) and the ending is fitting for their HEA. I'm looking forward to reading Brooke's story next!

Book Info:

Publication: Aug 01, 2020 | Harlequin Dare | The Pleasure Pact #2
Playboy billionaire Oliver Cotterill has never crossed the line with his best friend, Neve…until a destination wedding becomes a vacation fling that's hotter than a tropical fever.
My bad reputation is well deserved. That's why I've always kept things platonic with Neve Grayson. She may be a curvaceous beauty, but she's also my best friend. The person who's always had my back, always believed in me. The safest woman to take to my cousin's Maldives beach wedding. Or so I thought…
Neve parading around in barely there bikinis strains the boundary I set for myself nine years ago. Discovering her bag of sex toys opens Pandora's box…and there's no going back. It turns out Neve made a "pleasure pact" with her friends—they've dared her to show me exactly how she feels about being platonic! Then we make our own deal: what happens on the island stays on the island.
Once I get a taste of sweet, funny Neve, I realize my cravings will never be satisfied. My best friend has become my most powerful addiction. But I have to go cold turkey before she becomes the next salacious tidbit for the tabloids. Before my messed-up family damages her as they have me. Before she learns my darkest secret and walks out of my life forever…