Bad Reputation by Stefanie London: Remi is a talented ballerina with just so much potential, but she's been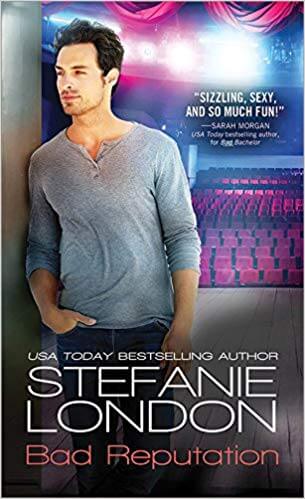 through the wringer between other dancers, a bad relationship, and her own fears. Moving to New York from Australia was necessary, but it didn't help her career as she hoped for. Remi has learned to rely on herself and that everyone else will put their own careers and ambitions ahead of her. She's content to teaching barre exercise classes at the studio chain her friend owns, but it's not her passion.

Wes grew up in a family that is synonymous with classical ballet. After following in the family footsteps at the Evans Ballet Company, he left to pursue creating his own ballet show that is more modern. He wants to go out on his own and chart his own path. Wes is sexy, charming, passionate about dance, and has a great eye for potential in dancers.
Wes knew that starting his own show would be difficult, but he didn't expect to run into one problem after another. It's hard enough to secure funding, but his task is even harder when his lead ballerina leaves the show and his reputation is in tatters due to the Bad Bachelors app. Wes and Remi met by chance and the attraction is immediately apparent. When Wes sees her dance, he knows that she has to be the lead in his show.
"Dance isn't a job. It's a calling."
She snorted. "Not interested. Not even a little bit."
"Oh, you're interested," he said with a laugh. "That much I can tell."
She rolled her eyes. "So you're a mind reader as well as a director?"
Remi refuses to mix business and pleasure, no matter how tempting Wes is on every level. They click in and out of the dance studio and their every interaction dials up the tension between them. Crossing that line seems inevitable, especially as they get to know each other better. Wes pushes and challenges Remi to overcome the past and to trust him, while Remi keeps Wes guessing and on his toes.
"We can't separate it, no matter how much I want to." She shook her head. "You have no idea how much I need this opportunity."
"As much as I do."
"Then you know why I can't screw things up by sleeping with you."
Bad Reputation is angsty, sexy fun. Stefanie London created plenty of tension and anticipation along with family drama, conflict, secrets, and banter. Ms. London developed main characters and a show you will root for. Bad Reputation can be read as a standalone in the Bad Bachelors series. Fans of Ruth Cardello and Sandy James will enjoy Bad Reputation.

Book Info:

Publication: August 7th 2018 | Sourcebooks Casablanca | Bad Bachelors #2
Wes Evans, son of Broadway royalty, just wants to achieve something without riding on his family's coattails. Too bad the whole world is talking about his sex life after the notorious Bad Bachelors app dubs him "The Anaconda." But when he sees a talented ballet dancer, he knows she is exactly what he needs to make his show a success.
Remi Drysdale only had one thought when she fled Australia for New York–never mix business with pleasure again. Ever. She gets the perfect chance to reclaim her career when a handsome stranger asks her to audition for his show. Remi promises herself not to tangle with the guy who holds her career in his hands…no matter how enticing his reviews are on the Bad Bachelors app…