In The Controversial Princess (Smoke & Mirrors Duet #1) by Jodi Ellen Malpas, Most people would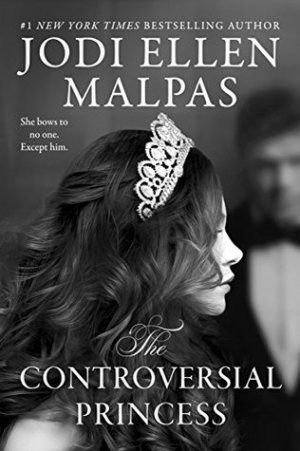 expect that being the Princess of England would be a fabulous thing. Couture clothing, champagne and caviar, being protected and pampered at every turn. What the public doesn't know is how trapped and suffocated it makes Adeline feel. They are unaware that her sometimes outrageous behavior is an act of defiance against her stodgy father, The King. A way to prove to him that she will not bow to his demands–be it his orders to act a particular way at an event or to marry a man she doesn't care for. Adeline has never met anyone, man or woman, who she would truly concede control to fully. Until she meets famous Hollywood actor Josh Jameson. A dazzling man who seems to instantly see right through to the very heart of her.
"I'm always a naughty girl… Defiant, some might say. Untamable and unruly. No man has, or ever will, succeed in controlling me."
"Then the wrong men have tried. I don't fail." He drops my wrist and moves away. "You'll submit to me eventually. Until then, Your Highness, game on."
A dalliance is all Adeline planned to have with Josh. A thrilling way to spend some time, get a bit of physical release and then send him off on his merry way. She didn't expect to fall under his dominant spell right from their first meeting, or that she would actually enjoy giving up control. But give up control she does. First of her body, then her heart. Before Adeline even realizes it, she's in love for the first time her life. Josh is everything she could ever want in a man. He's passionate, thoughtful, kind, a god in the bedroom. But he's not a royal. Knowing their relationship has an expiration date makes Adeline ache to leave her posh life so she can be with the only person who has ever cared about the *real* woman behind the title. When she and Josh make plans to do just that, her world turns upside down and their problems, it appears, unfortunately have only just begun.
"We were made for each other, Adeline. I'll be damned if royal blood and fame get in the way of that."
"Really?"
"Damn straight. I own that beautiful royal ass of yours."
Holy Royal Hotness! The Controversial Princess was everything a reader looks for in a book by Jodi Ellen Malpas: an erotic-edged romance with light BDSM, a strong, intelligent heroine, a kindhearted but dirty talkin' alpha hero, some angst, and lots of chemistry. LOADS of chemistry. Plus an ending that, yes, was a cliffhanger, but with the surprises thrown at us at the end, turning everything on its head in the most shocking of ways, set up the next book in grand fashion.
'I don't think I've ever felt like I belong, most certainly not in the family. But in Josh's arms, feeling his heartbeats merge with mine, I'm home.'
If you've never read anything by Jodi Ellen Malpas, this book would be a wonderful place to start. It's part of a duet, with book two His True Queen having *just* been released, which is the conclusion of Adeline and Josh's epic romance. So as you can tell, you would want to read these in sequential order. And you will want to! Because I wasn't kidding about this being a story of epic proportions. There was something quite captivating about the relationship that grew between Josh and Adeline. So basic in some ways, the way they acted like, ahem, frisky teenagers–although they were around thirtyish. But then again there was something magical about the connection between the Princess of England and her American boy that was timeless as well.
Adeline was one determined heroine when she set her mind to being with Josh. And although she didn't always think things through and got herself into a few predicaments that some readers may roll their eyes at, I loved her tenacity and understood her need to follow her heart. Not her father, the King's, orders. As dreamy as it sounds to be a royal, to be catered to and pampered, this story showed the darker side to it all. The "Smoke & Mirrors" Adeline battled made of lies, coverups, obligations and of meeting the monarchy's demands. She acted rather outrageously to sort of thumb her nose at her father and his stuffy advisors, pushing boundaries to try to find her place as a woman and as a modern royal. Adeline's family relationships were also strained, aside from with her brother Eddie–who was an awesome character–and with her mother to a certain extent. There were some bombshells about the family at the close of this book that will surprise readers. And it will make for an exciting ride in book two, I'm sure.
Josh was a classic Malpas hero. All alpha, he had strong opinions, a huge heart, and fought for what he wanted–and was there to always protect his "girl". As well, he was the source of the light BDSM portion of the romance, being a dominant personality in the bedroom, introducing Adeline to restraints and other kinky bedroom play. While this was written from Adeline's POV, it wasn't difficult to see that Josh was a sincere man who might have quite often dated casually in the past, but he was over the moon for his princess. I just adored how he could go from saying something dirty and crass to then saying something so sincere and lovely that it could melt a girl's knickers–er, I mean heart. (lol) But I think what really got to me was Josh's understanding of Adeline's limitations, of being in the spotlight all the time. They both had that issue in their daily lives. And I think it linked them even closer together as they looked for the freedom to see where their relationship could naturally go without demands from his career or her family.
Who doesn't love a modern royals story, right? Jodi Ellen Malpas was at her best with this crazy hot, truly entertaining, highly emotional, sweeping romance. With the ultimate highs of new love and the lowest depths of family drama and tragedy, The Controversial Princess is simply a must-read novel for romance fans.
Book Info:

Publication: Published May 22nd 2018 | Jodi Ellen Malpas | Smoke & Mirrors Duet #1
Her father is The King of England.
She is The Controversial Princess.
Regarded as down to earth by the press and rebellious by The King, Princess Adeline refuses to bow to the royal expectations her title carries. She knows better than anyone that the united front of the royal family is nothing but smoke and mirrors – lies and secrets masked by power and privilege. She wants no part of it, and she will never surrender to The King's demand to marry a man she does not love. But despite Adeline's determination to retain her free will, she remains deeply unfulfilled, feeling caged and suffocated.
That is until she meets Josh Jameson. Drawn in by his confidence, Adeline is soon captivated by the scandalously sexy American actor. His ability to penetrate her defences overwhelms her – his touch is pure fire, and his allure overpowering. Nothing has ever made her feel so alive in a world where she's otherwise slowly drowning. However, while Josh may be Hollywood royalty, he's not actual royalty, and Adeline knows The King and his advisors will do everything in their power to keep them apart.
But Josh Jameson becomes the princess's ultimate vice.
And although she bows to no one, she bows to him.