In Barefoot Dreams (Barefoot Undercover #4) by Roxanne St. Claire , Their wedding day should be one of the most perfect and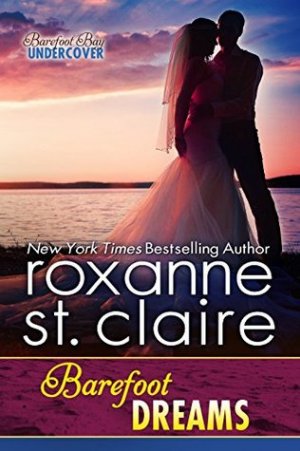 magical days of Gabriel Rossi and Lila Wickham's lives. And Lord knows that they're ready to start their marriage off on the right foot after everything they've been through to be together. But when an ominous nightmare interrupts the bride's happy slumber, threatening the life of her son Rafe, Lila will have to find a way to stop the curse before it can do any lasting damage.
"I never thought your day would be this traditional," Nino said. "I mean, it is you. I figured you'd hang off helicopter blades or tie the knot on a hillside in an unknown location."
Gabe doesn't necessarily believe in voodoo or curses, but he'll do anything to make his wife-to-be happy and keep their new family safe. So a trek across Barefoot Bay, along with some help from Poppy, Nino and the rest of his family, and local friends will have to suffice in order to make it to his beachside wedding on time. And in one piece. But just like everything else in Gabe and Lila's journey, nothing can be easy. Thank goodness he's stubborn enough to find a way, no matter what.
'Son of a bitch, he was going to weep like a wimp on his wedding day. He held it together and gave Rafe another hug, thanking whomever or whatever decided his life should be this perfect. How the hell did he get so lucky?'
Who doesn't love a wedding, right? Especially when it's the wedding of a couple who have gone to hell and back to find each other again. Barefoot Dreams was the perfect HEA ending to Gabriel and Lila's reunion in gorgeous Barefoot Bay. But in true Roxanne St. Claire style, there were a few bumps along the way.
What a fun novella! Gabriel Rossi has been a fan favorite for a long time and this particular story brought out everything in his personality that made readers fall in love with him in the first place. He was in all his intense, super sexy, potty-mouthed glory here. Not to mention that we got to see Gabe head over heels in love–and in full protection mode–over Lila and cute little devil Rafe. So for a short story, there was a multitude of emotions our hero went through in order to marry his longtime love, Lila.
The family was all present and accounted for as well, so if you're a fan of Rocki's work, you'll already know a bunch of them. I loved that Nino and Poppy were still as feisty as ever and showed how much they adored Lila, Gabe and Rafe. And I know it may not work for some readers, but there was even a bit of Jamaican voodoo as part of the storyline after Lila's horrific dream. I thought it was an interesting twist and something that drew Gabe and Lila together even closer as they worked towards keeping Rafe happy and safe.
Note: There was another short story set in Barefoot Bay, Whirlwind, that was included at the end of this book. It was from before the Casa Blanca Resort was built and was also a wonderful bite-sized romance for readers to enjoy.
Quick but packing an emotional punch, Barefoot Dreams will keep fans on their toes and alternately laughing and swooning as our happy couple counts down the hours until their wedding vows.
Book Info:

Publication: Published February 4th 2017 | by South Street Publishing | Barefoot Bay Undercover #4
A wedding day in Barefoot Bay is always joyous and exciting, but when the groom is none other than superspy bad boy Gabriel Rossi, the frenzy factor is high. Maybe that is the reason his beloved bride-to-be, Lila Wickham, wakes on her wedding day in a cold sweat from a bad, bloody dream.
As much as she wants to wipe away the memory and focus on the happiest day of her life, it soon becomes apparent that the dream heralds unhappiness…and tragedy. Terrified but determined, Lila knows she has only hours to take action against the daunting odds facing her son. But she's not alone anymore–she has Gabe at her back. And when it comes to defending the people he loves, there's no one fiercer than Gabe Rossi.
One single day, one embattled couple…one last shadow to dispel before they become the family they were always meant to be.
Bonus: Barefoot Bay short story "Whirlwind" included for free!