In Be With Me (Wait For You #2) by J. Lynn, Teresa Hamilton's entire life has shifted. She was on her way to a career in dance when an injury forced her to reassess everything. Now going to college in the loving, albeit over-protective, shadow of her big brother Cameron, Teresa begins to build a life around something other than dancing. Her crush on Jase Winstead, who happens to be her brother's best friend, becomes more difficult to ignore when they see each other on campus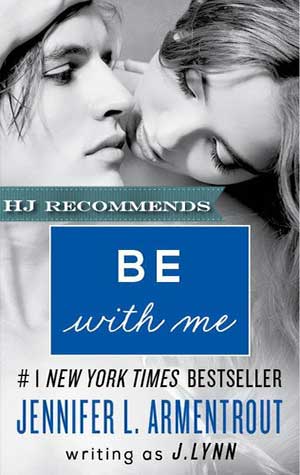 frequently. They had been friends previously until one amazing kiss happened, forcing them to awkwardly stay out of contact with each other for a year.
'Jase, unbeknownst to him and the entire world, had come to mean a lot of things to me in the last three years. A friend. My brother's saving grace. And the source of my crush.'
Now Teresa and Jase can no longer deny the attraction that has been between them, but issues from their past keep interfering in their attempts at a relationship. Teresa can feel Jase starting to hold back and isn't sure if it's a lack of intentions on his part or if he hasn't let go of his past yet. Danger finds its way into her life once more causing her to wonder if she'll get the chance to help Jase push past his problems so they can find their fairytale ending for once and for all.
'…the way he had kissed me proved to me that there really was such a thing as uncontrollable attraction, that yearning for more could be painful in the most delicious way, and that there really were such things as sparks flying when lips touched.'
I've been waiting for the chance to read Be With Me since I finished Cam and Avery's romance in book one, Wait For You, and Cam's novella Trust In Me. I am definitely not disappointed in Teresa and Jase's story in the least and I'm so happy to finally learn more about them!
Set in Teresa's POV, there's just as much emotion and drama here as with the first installment in the Wait For You series. J. Lynn is, in my opinion, one of the most expressive authors in the New Adult genre. She really seems to get inside the head of each character and can give us a perfect view of their thoughts, actions, and decisions while making it all seem totally realistic. Every one of the characters has their own story to tell and are fighting their own demons. There are some deep, dark issues Teresa and Jase have to deal with here, but it doesn't weigh down the overall tone of the book. There are still some wonderfully tender scenes and also some cute & funny moments to balance it all out.
As with the majority of New Adult stories, there is a lot of personal growth tied into the plot. Both Jase and Teresa experience changes in their lives which change the path they thought their futures would take. I thought Jase was incredibly wise in a point he made, telling Teresa how sometimes the unexpected can turn out to actually be a blessing in disguise. He had firsthand knowledge of this fact and tried to help her cope with her struggle over the possibility of losing her dancing career. I really felt like they brought out the best qualities in each other as a couple. They not only had smokin' hot chemistry, but they were also close friends who truly wanted the best for one another.
I think fans of burgeoning young romances that have a nice mix of intense emotions and lighthearted banter will enjoy Be With Me. This can be read independently or as part of the series with no problem. However, I highly suggest checking out Wait For You and Trust In Me, which centered around Cam and Avery. Every book so far has been equally as engaging!
Book Info:

Published February 4th 2014 by William Morrow Paperbacks
Teresa Hamilton is having a rough year—she's in love with her big brother's best friend, but he hasn't spoken to her since they shared a truly amazing, mind-blowing, change-your-life kiss. She got out of a terrible relationship. And now an injury is threatening to end her dance career for good. It's time for Plan B – college. And maybe a chance to convince Jase that what they have together is real.
Jase Winstead has a huge secret that he's not telling anyone. Especially not his best friend's incredibly beautiful sister. Even though he and Teresa shared the hottest kiss of his life, he knows that his responsibilities must take priority. He certainly doesn't have time for a relationship. But it doesn't help that all he can think about kissing the one girl who could ruin everything for him.
As they're thrown together more and more, Jase and Tess can't keep denying their feelings for each other. But a familiar danger looms and tragedy strikes. As the campus recovers, the star-crossed couple must decide what they're willing to risk to be together, and what they're willing to lose if they're not…