Mine To Crave (Mine #4) by Cynthia Eden: Mine to Crave is the fourth installment in the Mine series. The series features Trace Weston, Noah York, and Drake Archer; an unbreakable bond of brotherhood forged in battle. Their military days are over, but civilian life reveals enemies – both old and new. Cynthia Eden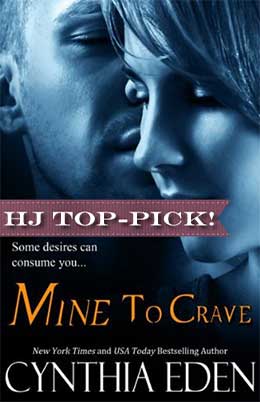 is gifted when it comes to putting the right mix of suspense and romance together. Finally, she has released the story I have been desperately waiting to read.
Drake Archer intrigued this reader since he was first mentioned. My first impression of him was overshadowed by the fact that he once betrayed a friend; even if it was unintentional. As a reader, this hindered my ability to immediately bond with his character – I felt he needed to redeem himself to be worthy of Jasmine. Never one to disappointed, the author does not let Drake off the hook easily – she torments him accordingly. However, as the threat mounts his character radiates all those swoon-worthy, heroic characteristics you expect.
Jasmine Bennett is a heroine rarely featured romantic suspense, at least without paranormal elements. She is comprised of characteristics usually reserved for the hero in the story. While her independence and strength were expected, her ability to maintain a HIGH level of mystery was fascinating.
The story is fairly unoriginal, but Eden's writing style more than makes up for that.
Book Info:

Published March 10th 2014 by Cynthia Eden | (Mine #4)
HE TAKES WHAT HE WANTS.
From the moment that billionaire casino owner Drake Archer sees Jasmine Bennett, he's obsessed. Consumed by desire for the mysterious redhead, Drake will do anything necessary to claim her. Yet as desire rages between them, danger is stalking ever closer. Drake's past isn't dead, and the ex-Special Forces agent will soon have to face the ghosts he left behind.
SHE'S HIDING SECRETS.
Jasmine isn't who she pretends to be. She's a woman on a mission—and she's supposed to be stealing secrets from the mysterious Drake. Falling for him isn't on her agenda, but when lust and love tangle together, all the rules get broken.
AN ENEMY IS CLOSING IN…
When Drake learns of Jasmine's betrayal…all hell breaks loose. He knows that he should turn his back on her, but it's too late for him. He can't let her go, but he can teach her a lesson. No one betrays him…not without paying a heavy price. Drake will destroy all of the enemies on his trail, he'll bury his past, and he'll teach Jasmine to want only him…just as much as he craves her.
Author's Note: MINE TO CRAVE is a sexy adult romance novel–as such, it contains explicit language, dangerous scenes, and steamy encounters. Please consider yourself warned.