In Beauty and the Bodyguard by Lisa Childs, Megan Lynch is about to be married to her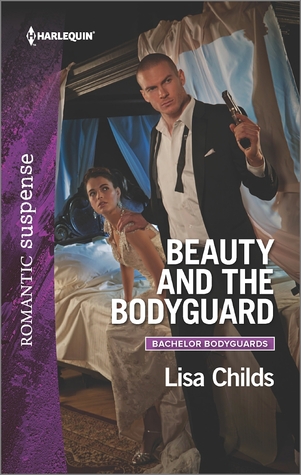 friend, only she doesn't love him. The one man she loved, Gage Huxton, was dead, and he died believing she never loved him. Knowing she'd never be truly happy with anyone else, she settled for marrying Richard.
After being tortured for six months and finally returning home, Gage has become a bodyguard. Not fully believing he's mentally ok, his boss puts him on easy assignments, such as guarding a woman with Alzheimer's who believes someone is after her, even though no one is. When he gets assigned to a wedding, he's not thrilled.
"So, no catfights between the mothers. What about the bridesmaids?"
Penny's lips curved into a bigger smile. "Why do you sound almost hopeful?"
He chuckled. "Just looking for the upside in this assignment."
"Cake," she told him, and she patted his cheek again as if he was a little boy she was promising a treat if he behaved."
When he finds out the bride is Megan, the woman who broke his heart, and Megan realizes her bodyguard is the love of her life, neither is thrilled but when people armed with guns enter the chapel, they have to put their past issues aside.
Gage wonders if it has something to do with going after Megan's father, Woodrow, who is the head of Chicago's FBI office. Woodrow and Megan wonder if they have something to do with Gage. Everyone has to put aside their differences and figure out what these people want before someone gets hurt.
I liked the book but wished I had felt more connection between the characters. Megan broke up with Gage because she believed rumors that he was using her to get a promotion. When he returns, she still struggles between believing that he really loved or that he might have just been using her. Gage, even knowing he doesn't want her to marry Richard, makes a decision that he wasn't going to stop the wedding because he believes she meant it when she said that she never loved him. For two people who were supposedly in love with each other, they seemed to have a lot of doubts about their relationship, both back when they were dating and at the time of their reunion.
If you enjoy a fast paced, action packed book, then you should give this one a read.
Book Info:

 Published: August 9, 2016 | Harlequin | Bachelor Bodyguards #4
Can this bachelor bodyguard save his true love from mortal danger…on her wedding day?
Bride-to-be Megan Lynch has just learned her ex, presumed dead marine Gage Huxton, is alive after surviving enemy captivity. But before she can break up with her fiancé, gunmen storm her wedding and take hostages! Megan will do anything to stay alive—for herself and a second chance with Gage. But there's more terror to endure before she can say yes to the dress—and her dream groom!
What do the gunmen want? Gage works double time to unravel the mystery and save the beauty who still holds his heart. As the wedding crashers open fire, Gage puts his life on the line to protect Megan and convince her of his love.