Beauty in the Billionaire's Bed by Louise Fuller is very enjoyable story which has a great beginning and continues to reel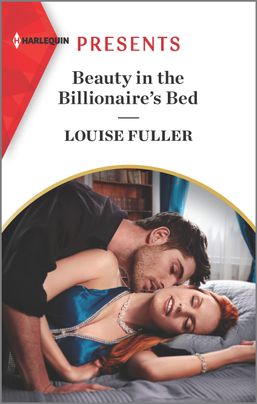 me in from there.
Invited to spend the weekend at Hadfield Hall, by who she thought was the man of her dreams, Frankie is ditched at the last moment. Expecting to be there alone, Frankie and Arlo have a brilliant first meeting. I think I'd be shaking with fear and die of fright but brave Arlo was amazing. Attraction is instant. After spending a lot of wonderful time together Frankie is then torn when Arlo's brother, the man of her dreams asks her to meet him overseas. Should she stay or should she go?
When I think of this story I feel warm. It's the setting and the tone and the adventures Frankie and Arlo have. I love Nero! It's a really good romance and I enjoyed the waves. Both Frankie and Arlo were complete opposites. I loved Arlo's name and his job description and he was just a good old fashioned Hero!
Wonderful story, thank you so much Louise Fuller!
Book Info:

Publication: September | Harlequin Presents |
An uninvited guest
An undeniable desire!
Billionaire explorer Arlo Milburn returns home to his secluded mansion to find an unexpected beauty sleeping in his bed! Learning that Frankie Fox is a social media influencer does nothing to inspire his trust. It's been a while since Arlo welcomed anyone into his solitary life…
However, stranded with Frankie while a storm rages outside, Arlo discovers her glamorous persona shields a warm, wounded young woman who touches him in ways he hadn't thought possible. Attraction may have brought them together, but can it break down his walls entirely?