At First Hate by K.A. Linde: Marley and Derek have been tangled in each others lives for years now, unable to quiet let go of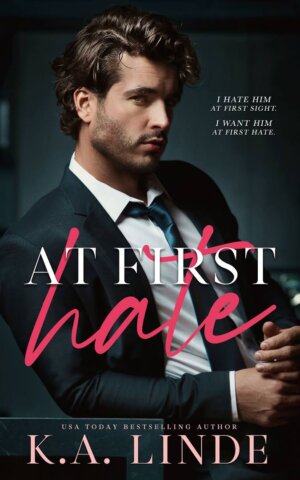 the all consuming spark that keeps pulling them back in no mater how many times they combust. But just maybe the saying that opposites attract is exactly what makes these two so perfect for each other? Marley is the complete opposite to the girls that run in Derek's circles, she is your regular simple girl where as he is a richie rich, but when they are together it all falls away and its just Mars and Derek.
"Though he'd stolen my first kiss, he was offering me my second."
It all started back in high school with one stolen kiss at a Halloween party, which lead Mars and Derek to dance around each other at different times in their lives for the past ten years. However this time the stakes are much higher, after the passing of her beloved Grandmother Marley and her twin brother have to deal with their mother trying to steal the only home they have ever had, the house their grandmother left to them in the will. If what her mother is doing wasn't bad enough the lawyer representing her is non other than Derek. The last thing that Marley should be doing is once again letting Derek into her life but just maybe this time things will be different?
"I liked you, Marley. Not just liked you. I was falling head over heels. I'd never felt that way about anyone before in my entire life. I dated. I'd been with other people. Girls never mattered to me. Then, here you were, crashing into my life over a feud, and I couldn't get you out of my mind…No one else is you, Mars. No one else will ever be you."
I truly don't know how Linde keeps out doing herself, each time I read one of her books I'm convinced that this is her best work and then she goes and releases another book that just knocks me over all over again! At First Hate was total and utter perfection from start to finish this book had me flipping pages fast and furiously desperate to know will they or won't they?!
"He was intoxicating, and I was drunk off of him in one glance."
The enemies to lovers trope is one of my all time favorites and getting to see Marley and Derek battle their way to a happily ever after was just gold! Both main characters were amazing and could not be more different from each other but one thing that was plain as day was their chemistry! Mars was such a brilliant female lead, not only was she a strong independent woman but she was insanely smart! I loved the relationship that she had with both of her grandparents and that they were the reason that she went into medical research. It was impossible not to love Marley and her no nonsense attitude.
"In that moment, I understood drug addicts. Because Derek Ballentine could very easily be the most addictive substance on the planet."
Now when it came to Derek, as much as he tried to come across as this big rich mean guy he was actually a really good person. The more we read and get to know him the more we get to see that he is such a caring person. Granted he did need some growing up in high school and while in college but one thing that didn't change was his feelings for Marley. I absolutely loved the chemistry between these two characters and that they were constantly trying to one up the other. Their continued banter and betting only added to the underlying tension between them.
"You were a beautiful mystery that I wanted to solve."
One of the things that really worked well for me in this book was that we got to see the past and present play out along side each other, this made for a more interesting read. When it comes to the secondary characters, I love that many of them are from other books of Linde's and we get to see things from a different perspective, in saying this I desperately want Ash to get his own book hopefully the guy can finally get his happy ending!
At First Hate is an absolute must read, Linde has created one of the best second chance/ enemies to lovers novels on the market! This book is packed with angst, swoon, snark and a whole lot of steam! This book needs to be added to your TBR pronto!
Book Info:

Publication: September 7th 2021 | K.A. Linde Inc. | Coastal Chronicles #2
Derek Ballentine and I have always been on opposite sides of everything.
I went to a public Savannah high school. He went to a private Catholic school. I went to Duke on scholarship. He went to UNC as a legacy. When we both end up at Harvard for graduate school and we're finally on a level playing field, I think it's all going to change.
I was wrong.
The only thing that changed was ending up in his bed.
Now my grandma has passed away, and Derek is the attorney helping the people trying to steal her legacy. I'll do anything to stop that from happening. Even take on my lifetime enemy.
I hate him at first sight…but I also want him at first hate.