Beauty Tempts the Beast by Lorraine Heath is the sixth and final book in the Sin for Seasons series. It has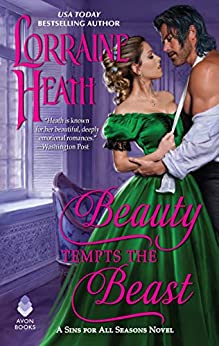 been such a great series and I hate to see it end. Each book can be read as a stand-alone, but the series is so amazing that I recommend reading each book. The books are all well written, fast-paced, and attention grabbers. The characters were charming and easy to fall in love with.
The series is based on a woman, Ettie Trewlove, who was a baby farmer and took in babies born out of wedlock. She took in five babies and raised them along with her own daughter. This is Benedict Trewlove's "Beast" story and it starts out with a mysterious lady taking Ben as an infant to Ettie to keep him safe and promising to return for him.
Ben grew up in the underworld of London and became a protector of women and the underprivileged. He had grown tired of protecting the women in the brothel, but he felt he needed to help them find new careers before he closed it. When he sees Althea working in his sister's tavern, he knows she doesn't belong there. Her grace and speech were too refined for Whitechapel and he knew she would be perfect for teaching the women a new trade. He's rule of never having a relationship with a woman under his protection is challenged when Althea agreeing to help him puts her under his.
Althea Stanwick and her brothers had lost everything when her father was convicted of treason. Their friends in Society shunned them and her fiancée dumped her. Now penniless, Althea and her brothers must work to survive. Althea felt like a burden to her brothers so when Ben offered her the job, she took it with the understanding he would teach her how to seduce men. She is determined to return to Society and obtain power over the men by seducing them. As Ben and Althea's relationship grows, she starts to doubt her decision and wants a future with Ben. Learning who his real parents were, destroys their plans for marriage. Althea refuses to marry him and have her reputation ruin him and any future children. Can Ben convince her that love is more important than Society's approval?
Book Info:

Publication: September 29th 2020 | Avon | Sins for All Seasons #6
She wants lessons in seduction
Althea Stanwick was a perfect lady destined to marry a wealthy lord, until betrayal left her family penniless. Though she's lost friends, fortune, and respectability, Althea has gained a scandalous plan. If she can learn to seduce, she can obtain power over men and return to Society on her terms. She even has the perfect teacher in mind, a man whose sense of honor and dark good looks belie his nickname: Beast.
But desire like this can't be taught
Benedict Trewlove may not know his parentage but he knows where he belongs—on the dark side of London, offering protection wherever it's needed. Yet no woman has ever made such an outrageous request as this mysterious beauty. Althea is out of place amongst vice and sin, even if she offers a wicked temptation he can't resist. But as the truth of his origin emerges at last, it will take a fierce, wild love to overcome their pasts.