The Duplicate Bride by Ginny Baird: Hope Webb is looking forward to a nice, relaxing summer off from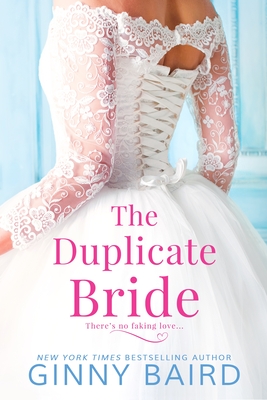 teaching school. Her identical twin, Jackie, is a type A personality who is a wedding planner. Unfortunately , Jackie has a wedding to deal with that is right before her own wedding week. When there are problems, Jackie talks Hope into swapping places with her for "just one day" and meeting with the future in-laws. On the drive there Hope decides she will just tell the in-laws the truth. Certain events happen as soon as she arrives that prevent that ,so she hopes she can pull off the charade.
Brent Albright is Jackie's finace'. Their relationship is more one of convenience and business than love and passion. Hope finds Brent charming and sweet and his family loving and kind. Brent is surprised that his fiancee' has become so much fun and really wants to make an effort to make their relationship closer.
Hope becomes concerned about her deepening feelings for Brent and his family. Even his prickly grandmother has accepted her. How can she walk away from them all when the big day comes for her sister and Brent?
This novel is truly a rom-com. Hope goes to such lengths to preserve the secret. Hope is a lovable character. She sees the best in others and can appreciate the simple things in life. Brent is also a charming man. He loves his family and friends and has an upbeat attitude.
Jackie is a different story. She truly puts her job first. It was crazy for her to have a wedding to finish up the same week she had her own to be part of. Even though she denies it, I think Jackie was having "cold feet" about her marriage to Brent. She put Hope in a very bad position.
The author has created really charming secondary characters in Brent's family. His grandmother was my favorite. Hope's mother added extra comedy with her insistence on singing a song at the reception.
It you are looking for a sweet romance and lighthearted fun, look no further than The Duplicate Bride.
Book Info:

Publication: September 29, 2020 | Entangled : Amara |
Saying "I do" has never been this much fun in this charming new romance from New York Times bestselling author Ginny Baird.
Hope Webb can't believe her twin sister, Jackie, is begging her to swap places and play fiancée at Jackie's pre-wedding festivities. Sure, it's only a business-deal sort of marriage, but Hope is a carb-loving teacher who enjoys curling up with a good book. Jackie is a workaholic whose idea of a good time is a brisk five-mile run at the crack of dawn. The two sisters couldn't be more opposite.
Now Hope is stuck in the middle of a warm, tight-knit family she can't help but adore and a groom who turns out to be entirely wonderful…for her.
Hotel magnate Brent Albright knows something is off about his fiancée, but he doesn't care. Gone is the driven woman with similar career goals, and in her place is someone warm and funny who not only charms his family but him as well. She's doing everything she can to avoid him, but that's probably just nerves. Two people about to wed couldn't know each other less.
Now Brent is determined to woo his fiancée, for real this time, because the more he gets to know her, the more his sweet fiancée turns out to be entirely wonderful…for him.
And that's when things start to get really complicated…