Because You're Mine By Layla Hagen: Ian Gallagher is known of his risk taking, party boy ways but this might just be the biggest risk that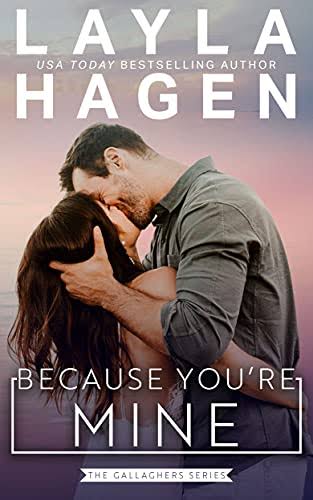 he has ever taken! Granted he to has grown up since his wild party crazy college days and really buckled down getting into the business world but when his best friend's younger sister comes to town everything changes, big time. There aren't many things that Ian takes as seriously as he does a promise and one to keep an eye on his best friends sister, is as serious as they get.
After all the last time Ian saw Ellie she was just an annoying little kid, definitely not the bombshell that is now trying to take the New York culinary world by storm. With an insatiable connection to the one woman completely off-limits will Ian be able to keep his friendship while still following his heart?
"I instantly knew that it wouldn't matter if days or weeks passed until I saw her next. I'd still want her with every fiber in my body."
The only thing her brother warned her off was to stay clear of the big bad play boy otherwise known as his best friend, Ian Gallagher. Now this definitely shouldn't pose any issue seeing as Ellie's main focus is to secure a spot in one if the most prestigious Michelin Stat restaurant. The only issue being Ellie did not expect to fall so hard for Ian, but somewhere between helping her settle in and showing her all the best spot in town Ellie has come to realise there is a lot more to Ian than what everyone else gets to see.
"I never wanted anything else. I wanted to make this man happy for the rest of my life, just as happy as he was making me."
I have been absolutely taken with this series and have been eagerly awaiting Ian's book, and let me just tell you Hagen has truly out done herself with this book! From start to finish this book had the perfect balance of steamy banter and playfully cute forbidden romance.
"Ellie had turned everything upside down and shown me a side of life I wasn't aware of before. I wanted her in my life, but I also didn't want her to give up on her dreams."
Watching Ian and Ellie find their way to each other, their chemistry was just perfect with an instant spark that only got more steamy as the book progressed. I really liked that we got to see both Ian and Ellie grow as individuals but also in their professional lives. I have liked Ian from the first time we got to meet him in one of the previous book and finally getting my hands on his story was just what I had hoped for! I loved getting to see him get knocked right over by love.
"I was certain that he turned heads in any room he walked into. His presence was magnetic. I felt the heat of his body and knew he was watching me. I carefully looked up out of the corner of my eye. My stomach cartwheeled when our gazes crossed."
As for our leading lady Elle, she was just the perfect punch of sassy snark that was needed to knock Ian right into place. Also I loved her passion for her work and trying to achieve her dreams. I really liked the easy bond that she formed with Ian's sister. It was also great getting to see the rest of the Gallagher's and Connors.
The best friends sister trope has always been a favorite of mine and coupled with Hagen's brilliant writing style and this book was win right until the very last chapter. I would highly recommend reading Because You're Mine, this book and the rest of this series have all been amazing!
Book Info:

Publication: August 3, 2021 | Layla Hagen | The Gallaghers #3
Ian Gallagher has always liked taking risks, both in business and in his personal life. But this time, he might be taking it too far. She is strictly off limits. He knows that only too well, but he can't help wanting to get closer. Their nights together are wicked hot, and he's insatiable for more.
Ian has always thought he's a sworn bachelor, but she might just change everything.