In Before I Saw You by Emily Houghton, Alice Gunnersley has never felt so helpless in her life. Used to taking the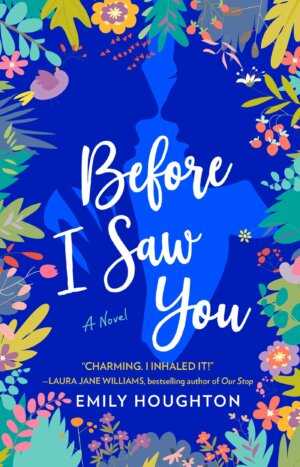 world of London finance by storm and working more hours than anyone else on her team, she simply doesn't know what to do with herself when she wakes up in St. Francis Hospital after a horrific accident. When Alice was moved out of the ICU, she had no idea that she'd get a chatty neighbor in the next cubicle. Or that Alfie Mack would become her source of entertainment and comfort in the stark hospital ward. Unwilling to let anyone see her, Alice relies on Alfie's lovely voice–and the occasional holding of hands through the curtain–to get through the long road to recovery. But her heart somehow becomes involved. Can a relationship between them work if they've never even seen each other?
"I don't know the color of your hair or the length of your arms or legs. I don't even know if you have any! But I don't care. Do you hear me? I. Don't. Care. I see you. I see you for who you are, Alice, and it's the most dazzling thing I have ever seen."
Stuck in a hospital bed, recovering from a terrible traffic accident, Alfie tries to be the upbeat guy in the ward who keeps everyone's spirits lifted. Or annoys them. He can never tell which with some of the patients. So when a new neighbor is brought in and no one is allowed to see her, he's intrigued. Alfie does his best to charm Alice. Not an easy feat, evidently. But eventually it works and they form a bond the likes of which can only happen in such an extreme situation as they find themselves in. That's why Alfie questions himself when his interest in Alice takes on a more romantic edge–not just that of a friend. Are his feelings for her real? Or is it just the closeness of being cubicle neighbors, sharing their daily lives for weeks on end?
"Alfie, I'm here. Take my hand."
He didn't need to see her to know there was no pity, no awkwardness or repulsion. She would hold him. She would anchor him. He held her hand, and she squeezed him tightly.
A touching, humbling look at healing and learning to fully live again after trauma, readers will be hard-pressed to not fall in love with Emily Houghton's emotional debut novel, Before I Saw You.
'From the outside, it was an absurd situation. Two strangers talking all day every day but never actually meeting face-to-face? Could you even call that a friendship?'
Trigger warning: View Spoiler »Suicidal thoughts; detailed accounts of the accidents Alice & Alfie were in and the physical wounds they suffered. « Hide Spoiler
How cool of a premise is this one, right? The thought of two strangers who are stuck in neighboring beds in a recovery ward yet have never laid eyes on each other but have a strong connection? It definitely sparks the imagination. And it was a setup that was perfect for some very intimate scenes that were raw with the deep emotions between Alice and Alfie. I must say that Houghton did a fab job of adding nuances and light touches each time Alfie and Alice interacted that showed how their friendship–and attraction–slowly grew over time. I loved that progression. It rang true and was heartwarming to think of them not only falling for each other but also helping each other keep their spirits up when there was a setback or issue.
The cast was superbly done. Of course workaholic Alice and super nice guy Alfie (loved his sense of humor!) were the main characters and whose POVs this was told through, but the supporting characters were wonderful. Everyone from the other residents on the ward to the nurses and doctors to Alfie and Alice's friends and family, they held their own and added unique aspects to the story itself. It is important to note that it was mainly set in the hospital, so some of the events were sad as well as the setting was rather bleak at times. But the budding friendship between Alice and Alfie more than made up for it. That was the bright spot in their tough day-to-day life they had to endure while they recuperated–which was equal parts heartbreaking and inspiring.
Keep your tissues handy! Before I Saw You will bring out every emotion imaginable with Emily Houghton's lovely prose and will leave you with a sense of hope for our stellar main characters with that sigh-worthy surprise ending.

Book Info:

Publication: May 4th 2021 (first published February 4th 2021) | Gallery Books |
For fans of Close Enough to Touch and Me Before You comes a poignant and moving novel about two patients who fall in love as they recover from traumatic injuries in the same hospital ward…all without seeing each other.
Alice Gunnersley and Alfie Mack sleep just a few feet apart from one another. They talk for hours every day. And they've never seen each other face-to-face.
After being in terrible accidents, the two now share the same ward as long-term residents of St. Francis's Hospital. Although they don't get off to the best start, the close quarters (and Alfie's persistence to befriend everyone he meets) brings them closer together. Pretty soon no one can make Alice laugh as hard as Alfie does, and Alfie feels like he's finally found a true confidante in Alice. Between their late night talks and inside jokes, something more than friendship begins to slowly blossom between them.
But as their conditions improve and the end of their stay draws closer, Alfie and Alice are forced to decide whether it's worth continuing a relationship with someone who's seen all of the worst parts of you, but never seen your actual face.
A tender novel of healing and hope, Before I Saw You reminds us that connections can be found even in the most unexpected of places—and that love is almost always blind.