In Before We Were Strangers by Brenda Novak, A successful model who has graced the covers of some of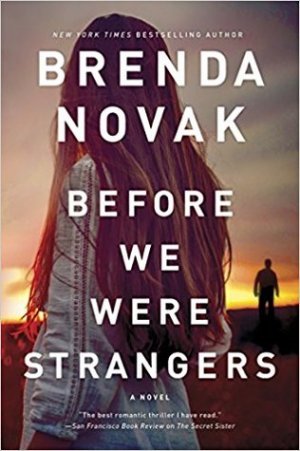 the most important fashion magazines in the world, Sloane McBride should have been able to put her tumultuous past behind her by now. But she's never forgotten that night twenty-three years ago when her mother disappeared without a trace. Something about the events and the lack of a serious investigation never sat right with Sloane. Even though she was only five-years-old at the time, she knew that a doting mother of two would never leave her children in the middle of the night. And then there was the heated argument between her parents that evening that still haunts her to this day–and makes Sloane wonder if her father could have had something to do with her mother's disappearance.
"I'm hoping to find that my father *didn't* hurt my mother. You understand that, right? I want to believe in him. I want a father, even if it's an imperfect one."
After the loss of a close friend, Sloane travels back to Millcreek, Texas, determined to find out the truth about her mother's disappearance. No matter who stands in her way. Of course she knew that her arrogant father and his biggest fan, her brother Randy, would be her worst problems in town. But having left Millcreek, her high school sweetheart Micah, and her best friend Paige in the dust just after they graduated–and not explaining her reasons why to them at the time–she's not sure she'll have any allies in town. Or if she can trust those who are supposedly on her side. Because someone is going behind her back and making things doubly difficult for Sloane. And by the time she figures out who it is, her life might very well be in danger.
"Will you ever forgive me?"
"Not if I can help it."
She blinked at his words. "Why hold on to a grudge?"
Her skin prickled as his gaze ranged over her. She recognized the sexual hunger in his eyes. "Surely you can guess the answer to that question."
Thrilling plot twists. Lies and double-dealings. Before We Were Strangers was an electrifying work of fiction steeped in suspense, small town theatrics, and even a bit of romance.
"She deserves justice, and I'm the only one who can give it to her. I've sort of always known I'd have to deal with this eventually."
I've been a fan of Brenda Novak's work for years. Whether it's contemporary romance, suspense, or even historical fiction, she knows how to grab my attention and not let go. Before We Were Strangers was just such a story. I didn't realize going into it that I would get so wrapped up in Sloane's pursuit of the truth or that Novak would keep me guessing up until literally the very end as to what truly happened twenty-three years ago. But those twists and turns were so intriguing that I had a terrific time trying to figure it all out. Especially when it came to Sloane's fractured relationship with her father and brother, and her previous friendships with former BFF Paige and ex-boyfriend Micah.
For me it was easy to sympathize with Sloane's wish to determine what happened to her mother over two decades ago. Who *wouldn't* want to know the truth, right? And I thought she was a pretty brave woman to not only go back to a town she left behind without warning right out of high school, but to also stand up to people who had never treated her right in the first place. Just like with most small town stories, we got to see the duplicity that can exist with local townspeople and how things can have a snowball effect in such a close setting.
Sloane definitely didn't know most of the time who she could or couldn't trust unfortunately. Getting the POVs of some of the other main players in this tale really helped me get a feel for the dynamics between them all and I thought Novak smartly used that to also keep us guessing about who might have had potential to do evil. But honestly, there was more than one shady person in that town! (lol)
Already a master of complicated, intricately woven stories, Brenda Novak wowed me with just how far she was willing to take things and push her characters in Before We Were Strangers. This is one thriller that will definitely be worthy of a re-read!
Book Info:

Publication: Published December 4th 2018 | MIRA |
Something happened to her mother that night. Something no one wants to talk about. But she's determined to uncover her family's dark secrets, even if they bury her.
Five-year-old Sloane McBride couldn't sleep that night. Her parents were arguing again, their harsh words heating the cool autumn air. And then there was that other sound–the ominous thump before all went quiet.
In the morning, her mother was gone. The official story was that she left. Her loving, devoted mother! That hadn't sat any better at the time than it did when Sloane moved out at eighteen, anxious to leave her small Texas hometown in search of anywhere else. But not even a fresh start working as a model in New York could keep the nightmares at bay. Or her fears that the domineering father she grew up with wasn't just difficult–he was deadly.
Now another traumatic loss forces Sloane to realize she owes it to her mother to find out the truth, even if it means returning to a small town full of secrets and lies, a jilted ex-boyfriend and a father and brother who'd rather see her silenced. But as Sloane starts digging into the past, the question isn't whether she can uncover what really happened that night…it's what will remain of her family if she does?