In Begin Again by Christy Newton, Maisie Scott has lost everything she held dear when she her lost her husband and unborn child in a tornado two years ago. Now she makes sure no one is close enough for her to loose by keeping busy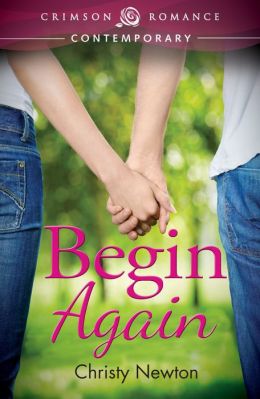 working as a waitress and keeping everyone at a distance.
Ryan Tucker has moved into town to make a new life as the new veterinarian for exotic animals, where there are no memories of the fiancée that left him six months before. But when he goes into the diner he not only becomes addicted to their homemade apple pie, he also becomes determined to put a smile on Maisie's face.
Ryan will have a hard time convincing Maisie to give him a chance to get close to her. Not only does he have to find a way to make her see that she deserves to be loved and happy, but also make her realize that taking a chance may bring pain, but also the greatest happiness possible.
Both Ryan and Maisie have lots of pain to get past. They both lost the ones they loved in different ways, but with a lot of patience and care, they will find that love can always come a second time. But the greatest challenge they will face is when another dangerous storm hits the town and Ryan will have to stay close by Maisie's to ease her fear.
This story is great; it not only about loss but also second chances, with the added bonus of a handsome, thoughtful and caring veterinarian. Two broken souls that will heal each other with care and a good friendship that will slowly develop into something more meaningful.
For a sweet and emotionally heartwarming read, don't miss Begin Again by Christy Newton.
Book Info

Publisher: Crimson Romance (August 5, 2013)
What if one night changed your life forever?
Maisie Scott lost not only her husband and unborn child in a tornado two years ago, she lost her will to live. Keeping busy is the only way she can get by. This small town waitress won't let herself get attached to anyone . . . until Ryan, the new veterinarian for exotic animals, starts making regular trips to her diner. As hard as she tries not to feel anything, Ryan ignites a spark in her broken heart.
Ryan Tucker craves a happy family of his own more than his momma's apple pie. Getting over his fiancée leaving him six months ago, he moves to Pleasant Valley for a fresh start. When he meets Maisie and notices the sadness in her eyes, he is determined to put a smile on her pretty face.
When another dangerous storm hits, Ryan stays by Maisie's side. She fills the missing piece in his heart, but will Ryan share his secret? Can Maisie move on from the past and learn to begin again?
Sensuality Level: Behind Closed Doors