In Seduction in Silver by Natalie Anderson, Canadian beauty Nina Breslin is currently living and working in London to escape the pity party and gossip from her recent break-up. It has been four months since she found out her now ex-fiance Corey had cheated on her. Nina's self-esteem and confidence is at an all time low and she needs some excitement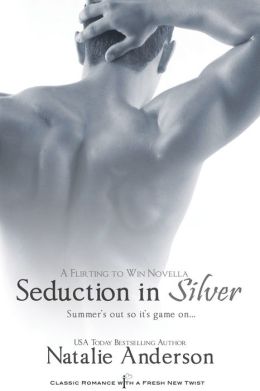 or even a flirty fling, to pull her from the doldrums. Luckily, she embraces each day with vitality and hopes that her time in London as well as her near future tour of Europe, will lead to wonderful adventures.
Handsome Eduardo Ruiz is a dedicated physician. He takes his work very seriously and spends every waking moment helping others while researching cures for their illnesses.
He believes being alone and unattached is the only way he can live a successful life. His parents are not happy with his past or present choices and his aunt only wants him to get married and settle down in his home country of Spain.
When Natalie and Eduardo finally meet, after weeks of observing each other on their way to work, sparks ignite. They talk and agree to help out each other by pretending to be a madly in love couple during a dinner with Eduardo's aunt and drinks with Natalie's sort of friends, in order to avoid meddling and a commiseration gathering. The feigned relationship works, however, they both realize that they have a lot in common and truly lust after each other. Which leads them to a night of mind-blowing sex and passion.
Who would have thought that Natalie and Eduardo would find love. Counting down the days until Natalie's trip to Europe, they spend all their free time together, loving and facing their fears about commitment, fidelity and honesty. After overcoming a few roadblocks, true love conquers all.
This is a sweet and spicy modern fairytale. It is a well-written novella that keeps you cheering for the couple's ultimate happiness.
Book Info

Publisher: Entangled: Indulgence (July 29, 2013)
Nina Breslin figures the sexy man she meets on the Baker Street Tube is eons out of her league. Dr. Eduardo Ruiz needs a break from the heart-breaking reality of his job. And when he finally introduces himself to Nina, they agree to an outrageous plan. Can they play by their own rules, or will they succumb to the pull of seduction?