Bend Toward the Sun by Jen Devon: When Harry finds Rowan during the family game of hide and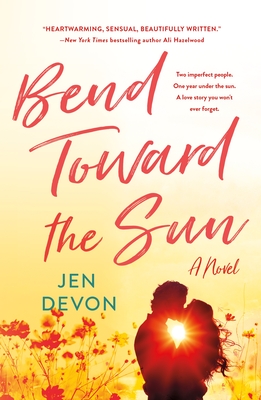 seek, she knees him to get away. He doesn't expect to not be able to forget about her and the way she evaded him. When his family needs to hire someone to help bring their vineyard to fruition, he is completely on board with trying to get her for the job.
Rowan solely wants to finish her academic paper. When she is offered the position at the vineyard, that is her primary focus, and it has the benefit that she can use her time there as research. When Harry keeps finding ways to spend time with her, she wants to push him away more than anything, but finds that she enjoys spending time in his company more than apart from him.
Both Harry and Rowan aren't sure what their next steps should be due to the trauma in their pasts, but they lean on each other for healing and don't expect everything that comes with it. Rowan's past has hurt for her entire life. After losing her grandmother, she found out the truth about her mother and realized that she lost the one person who truly showed her love. Harry is reeling from a death of a patient that haunts him each day. As the two of them help each other heal, they can't help but discover fears that exist below the surface as well. Will the two of them be able to fight for their blossoming relationship in order to find solace with each other?
Okay. I loved this book. I immediately texted my best friend to tell her to add it to her TBR list. It encapsulated every emotion necessary, but did it in a way that didn't feel forced. I loved the way the book was split into sections, so that you had some breakdown to the story. Rowan and Harry were both amazing as they overcame their struggles. They were afraid to let each other in at first, but they helped each other without knowing it.
Rowan had never experienced the love of a family, so she had to learn everything from scratch with Harry's brood. She had to overcome a lot of hesitation internally to understand her worth and what she wanted from her life. She definitely tries to run from her feelings multiple times, but thankfully she has a support system in place by that point to help her get back on track.
Harry deals with a different kind of internal struggle. After his devastating loss, he cannot keep his mind focused as the doctor he should be. Reeling from anxiety attacks each time a medical issue comes up, he throws himself into working on the vineyard to keep his mind off his thoughts. Rowan helps him through this by solely being there. She helps him understand what he is capable of again.
I cannot recommend this book enough. Even the extra cast of characters were easy to follow, but you honestly didn't need to follow all of them. The author did a good job of focusing the attention on the necessary ones without overshadowing Rowan and Harry. Honestly, read it. You won't be disappointed.
Book Info:

Publication: August 9, 2022 | Griffin |
"Heart-warming, sensual, beautifully written." –Ali Hazelwood, New York Times bestselling author of The Love Hypothesis
Two imperfect people. One year under the sun. A love story you won't ever forget.
Rowan McKinnon doesn't believe in love. With a botany PhD, two best friends who embrace her social quirkiness, and some occasional no-strings sex, she has everything she needs. But she hides deep wounds from the past—from a negligent mother, and a fiancé who treated her like a pawn in a game. When an academic setback leads Rowan to take on the restoration of an abandoned vineyard, she relishes the opportunity to restore the grapes to their former glory.
She does not expect to meet a man like Harrison Brady.
An obstetrician profoundly struggling after losing a patient, Harry no longer believes he is capable of keeping people safe. Reeling, Harry leaves Los Angeles to emotionally recover at his parents' new vineyard in Pennsylvania.
He does not expect to meet a woman like Rowan McKinnon.
As their combative banter gives way to a simmering tension, sunlight begins to crack through the darkness smothering Harry's soul. He's compelled to explore the undeniable pull between them. And after a lifetime of protecting herself from feeling anything, for anyone, Rowan tries to keep things casual.
But even she can't ignore their explosive connection.
"A lushly drawn portrait of two people with a magnetic, soul-deep connection." – Rachel Lynn Solomon, New York Times bestselling author
"A gorgeous love story full of lyrical writing and raw emotion." – Jennifer Probst
"Soul satisfying, sensual, and unforgettable." – Libby Hubscher