To begin with, the cover of Bending Over Backwards by Samantha Hunter is unique and well designed. The beachy colors and golden yoga pose draw you in. I typically do not take a second look at book-covers, but this one truly caught my eye.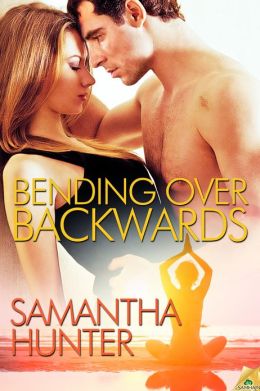 Both Jasmine Stanford and Leo Fischer have lost everything. Due to circumstances beyond their control, they are attempting to make new lives for themselves on the beautiful peninsula of Cape Cod. Both have erected imaginary barriers around themselves in order to keep out the pain, anger and distress, that being involved with someone else may cause. Eventually, the walls have to come down if true love and trust come a knocking.
Jasmine Stanford is a completely stressed out yoga instructor with her own studio. She was born into wealth and lived liked a princess until her father was accused of insider trading and cheated investors. Consequently, her father committed suicide. Her mother had a nervous breakdown and Jasmine was left all alone in the world for the first time in her young adult life. Jasmine pulled herself together and immersed her soul into yoga. She is a workaholic and purposely has little time for the pleasures life has to offer. When her studio is vandalized, she must readdress her life once again.
Leo Fischer was a very successful stockbroker until one of his clients went postal after losing a lot of money. By shielding a colleague from the shooter, Leo gets shot in the shoulder and consequently, suffers from short-term amnesia. He is presently vacationing and recuperating at his manager's home in Cape Cod. He does not remember the shooting very well and he is not sure if he will ever go back to Manhattan and resume his former life. The shooting changed him and his need for wealth and success is no longer a priority.
Jasmine and Leo meet on the beach where Jasmine is teaching a yoga lesson. Immediate sparks kindle and they begin to see more of each other. The chemistry between them is magical and hot. However, Jasmine is reluctant to be open with Leo about her past for fear of embarrassment and desertion. She claims she never wants to lean on or trust anyone ever again. Meanwhile, little things trigger Leo's memories and he realizes he does not want to return to his former life. As Leo's temporary living status turns permanent, he has to convince Jasmine he is the rock she is looking for. He wants to remain in Cape Cod with Jasmine. Eventually, by loving and understanding each other, Jasmine and Leo see a future together.
This is a good, fast-paced romance. I highly recommend it.
Book Info
Publisher: Samhain Publishing, Ltd. (July 23, 2013)
They both lost everything, and then they found each other.
Jasmine Stanford has to be the most stressed-out yoga instructor on Cape Cod. Years after a childhood trauma left her penniless, homeless and parentless, working hard to maintain her hard-won success and security is all she knows.
Controlling her carefully rebuilt life is Jasmine's first priority, and there's no room or time in it for sexy former stockbroker Leo Fischer. But the more Leo comes around, the more Jasmine feels her resolve crumbling.
Leo is—or was—a hotshot investment banker until a workplace tragedy wiped out his memory and his career. On Cape Cod to recover, he's at loose ends, his future uncertain…until Jasmine becomes his north star. But their relationship is only physical, and Jasmine keeps her distance, even when she's as close to him as any woman can be.
Jasmine is anything but indifferent to the desire exploding between them. A summer fling was fine when she thought Leo would return to New York. But she's falling hard—and the last thing she wants to catch her is the past…
Warning: This book contains a wounded hero hotter than a summer sun and sex in very flexible positions.